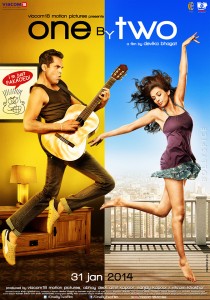 In another unique move Abhay Deol and Viacom 18 have made One By Two, which is in theaters now, also available for rent on Facebook!
Starring Abhay Deol and Preeti Desai and directed by Devika Bhagat One by Two is the story of Amit and Samara – two souls in Mumbai, a city of millions and how the universe conspires to bring them together. This is a coming of age film about how two people are destined to meet but only when their individual lives are ready for each other. Through a chance encounter, a series of coincidences and fate's helping hand, Amit and Samara's lives intersect and affect each other. Whether they can find their true paths or not, only time will tell.
Here are the deets from Abhay Deol:
FOR THE 1ST TIME EVER, DAY AND DATE RELEASE OF A FILM ON FACEBOOK-
Many producers will be happy to know that they now have a new platform to release their films. Traditional ways of doing business are constantly changing in our modern age. This is the 1st Hindi movie available to rent for audiences around the world (except India and Nepal where it is in cinemas) on the film's Facebook page, Viacom's page, and my page at $4.99 for a 48 hour rental!
https://www.facebook.com/Viacom18MotionPictures/app_223615011031939
This enables audiences around the world to watch the film in highest quality, at their fingertips, on their computers, without having to wait or succumb to piracy.
This will help producers to make films that tell unique stories, because through this process, they can take on the inefficiencies of the system.
Old school processes of international theatrical releases, only make commercial sense for the very large budget films, for the rest of the films, digital release is the way to ensure that content reaches the user legally and in a way to build new levels of distribution.
Help us fight piracy. Support all kinds of movies. Give variety a chance.
Reach out to the world
Check it out here too!