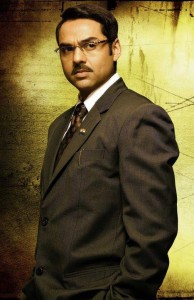 Releasing on June 8th is Dibarkar Banerjee's Shanghai starring Emraan Hashmi and Abhay Deol. In the film, Abhay plays Krishnan, who according to the actor is "A Tamil Brahmin, and being as IAS officer posted in Maharashtra, I needed to perfect a lingo that was largely clean Hindi with more Marathi than Tamil words, but spoke with a subtle south Indian accent."
When Abhay was quizzed about his Tamil act in the film, Abhay added, "It was something completely alien to be. You don't expect me to be in the role of an older south Indian IAS officer. I got really excited as it was a challenge."
However, when he was compared to Shah Rukh in Ra. One director Dibakar Banerjee who is known for his frank opinions added, "I can say he did better than that (SRK's Tamil act). For three months, Abhay had a Tamil coach to train him in Tamil alphabets, language and the accent. He also made a condition that before the shoot of each scene made sure that I would be on the sets in his van along with his coach before his scene scene if I didn't spend half an hour with him rehearsing his dialog with the language coach then he wouldn't shoot for the scene. It has not been an easy task for Abhay."
"This character is alien to me. So I worked more on the language. The character that I play is egoistical, short-tempered, he is very reserved and religious person. The big stumbling block for me was the language. As I am a Tamil guy in this film, so on the accent part, we did not want to make it sound stereotype, I learnt Tamil alphabets and came to know that they don't have certain letters," Abhay said.
About working with director Banerjee, Abhay says, "Dibakar is one of the finest directors. I had the opportunity to work with him in Oye Lucky Lucky Oye. I love the way he creates his own world through his scripts. He has a brilliant way of telling stories."
Director Dibakar Banerjee has adapted Vassilis Vassiliko's novel 'Z' to Indian context and pulls absolutely no punches in its depiction of this contemporary Indian political thriller. The story: A small town somewhere in India is poised to become the next Shanghai. Billions of dollars are being poured into an upcoming International Business Park. On the eve of its launch a drunk truck driver mows down a prominent social activist. A lone girl believes it to be a murder, supported by a porn film maker who claims to have the proof that will bring the government down. A high ranking bureaucrat is brought in to investigate the accident. Shanghai follows the journey of these unlikely heroes as they come together to find justice in the labyrinth of Indian democracy.