Director Abhinay Deo is well known in the entertainment circuit as he has directed over 250 advertisements and then he moved on to do feature films. The young director made his debut in Hindi cinema with the Abhishek Bachchan starrer Game, however Game was actually his second film. Delhi Belly was his first full-length film as director. The comedy was shot in 2008/2009 and was completed even before Game began, but was delayed for release. Produced by Aamir Khan, Delhi Belly stars Imran Khan, Vir Das and Kunal Roy Kapoor and is an "irreverent and fun film" according to Deo. It was selected as the opening film of The London Indian Film Festival 2011. Deo jetted into London to be there at the World Premiere of the film and took some time out to chat to us.
How are you feeling at the moment?
Anxious, excited… everything.
What was your first thought when you read the script of Delhi Belly?
My thought was that this kind of a film needs to be made immediately. I wanted to jump on the film and make it immediately because I think, it was high time that a film like this got made in India for the Indian youth.
Is it hard to direct something like this, a dead pan comedy?
It is hard from the point of view that there is no precedence to it. Nobody has really done this and been able to pull this through. When there is precedence then you can always look back and say what has worked for somebody and what has not worked for somebody and use that for your advantage. But here there was nothing of that sort in India.
The bigger challenge was to get the actors tuned into the deadpan stuff because they are not used to that. To make it even tougher, the basic language of the film was in English, so that made it even worse. I think from that point of view, we managed pretty well.
How would you describe the story of Delhi Belly?
Delhi Belly is about three guys and it's kind of a span of four to five days in their life. By the end of the five days, because of the different things that have happened in their life they have come to age, almost. It's a story of that kind but there is no message whatsoever that we are trying to pass to the youth. It is an irreverent and fun film. It's just a film about crazy shit that happens to them.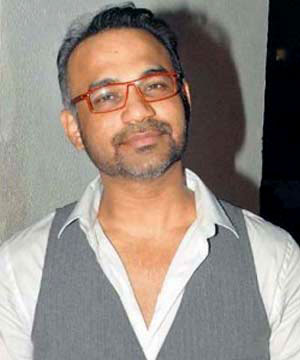 Imran Khan recently revealed that it took him about 5 screen tests before he was confirmed for the role. Why did it take so many screen tests for him, Vir Das and Kunal Roy Kapoor?
First of all, the problem is that auditions in advertising, where I come from and in Hollywood are not a big thing. It happens all the time. Auditioning is the way we cast for our films, so it is a little surprising for people in Bollywood. They almost get offended, though Imran was a great sport. He was fantastic as he did not flinch at all, because he was very clear that he wanted to do this film. But we did a whole lot of auditions because it was a challenge for me to get the right actors, as we were not casting out of the usual suspects, honestly speaking. So we wanted to get the right cast, the right person from the industry, maybe not from the industry, maybe someone completely fresh. They have to fit the bit and the role. The most important part was that they needed to be natural because that was my pre-requisite. That is the reason why we had multiple auditions for all these actors before we could finalise them.
It seems like Hindi cinema has grown to be more accepting of this film, more so maybe than it would have been in 2009. Would you say that to be true?
I really don't know. I mean who is to say that? This is speculation. I really don't know because everything has its own time and I believe in that. Whatever happens, happens at the right time and for the right reason. So, I don't know. If two years ago Delhi Belly would have come out, who knows what would have happened.
Would you not have liked to have Delhi Belly as your debut film?
I would like to have a Ferrari at this point of time. I would like to go to the moon (laughs).
The point is that, it is in our hands to make sure that we work hard and that we make a great film. After that we just need to leave a few things to fate and then just trust it, believe in it and hope for the best after that.
Are you completely happy with the final product?
Absolutely, I am ecstatic.
Tell us about working with Imran, Kunal and Vir.
You know what happened in this film was very unique. Before the film started, I wanted to do a workshop. So for fifteen days, we actually put these three boys together. In the film, these three boys are supposed to have stayed together for almost two years and they are buddies. I wanted to make sure that these three boys look like they are best friends and that they have stayed in that space for long enough. In the workshop, we went over the script, the lines, the scenes, the camaraderie and they actually ended up becoming friends over those fifteen days. That I think is the unique factor and all of them are fantastic actors. I think Imran Khan has just outdone himself in this movie.
This is also very unusual for Aamir Khan Productions to come out with a film like Delhi Belly. How much involvement did Aamir have in the production of this film?
Yes, it is very unusual for them produce a film like this. Aamir had no involvement in the pre-production and he was not there while we were shooting. He was shooting for one of his own films. After my 'director's cut' was ready (about two years ago), he saw the film and then there were two other films that he was producing; Peepli Live and Dhobhi Ghat. We all decided together that we are going to give it a bit of a pause and keep this in the cold storage because Khan is a guy who likes to take one film at a time. He took those other two films and released them well and then we got back to this project and fine tuned the director's cut and here we are.
What went into the decision to premiere the film at the London India Film Festival?
There was so much speculation about this movie at that time and then Cary Rajinder Sawhney, the director of the festival saw the film and he believed that this is the right film that should open the festival.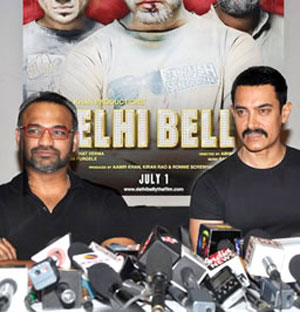 What about the reports that the film was going to premiere at Cannes Film Festival?
We were planning at a point to premiere the film at Cannes Film Festival but we missed the deadline, as we were not ready with the print.
The music is fabulous.
Ram Sampat is just a genius.
Which one is your favourite song?
My favourite song, of course 'Bhaag D.K Bose' is everyone's favourite but because I have lived with these songs for so long, I really love 'Tere Siva'. It's a love song and is not very popular and it's just in the background in the film, like most of the songs. But 'Tera Siva' is just a fantastic song and is one of the best love songs I have heard in a very long time. 'Switty Tera Pyaar' is another favourite of mine and it is just absolutely hilarious.
What do you think about the music videos as they were shot just recently?
I love the video of 'Switty Tera Pyaar' and 'Nakaddwalley Disco'. It's hilarious, I mean that Qawali is mind blowing.
What about Aamir Khan's item song? How did that come about?
We really contemplated as to how we are going to do that item song. Finally, we managed to convince Aamir to take over the item girl's part and become an item man and rise up to the occasion and just do it. I think that he has just outdone any item girl that I have seen before. (Laughs)
What do you think is the best thing about the film?
The irreverence of the film is the best thing about the film, I think. It is absolute irreverent and is not passing any kind of message.
What should the audience expect from the film?
They should expect a laugh. Please do not expect a message because you will be really disappointed. I would just say to the audience to enjoy the film and that it is going to be crazy fun and look forward to Delhi Bellies in their life (smiling).
What is next for you?
I am waiting for a script to come my way, which excites me as much as Delhi Belly did.
Produced by Aamir Khan Productions and UTV Motion Pictures the film is out now on general release worldwide.
With contributions by Stacey Yount