Football fever has been growing exponentially in the country over the last few years. A lot of this has to be credited to the efforts that have been put in by B-Town to promote the sport. Carrying on in the same spirit, the ASFC, led by Abhishek Bachchan took on the CISF team for a friendly match in Mumbai on Tuesday.
Ranbir Kapoor, Shoojit Sircar, Shabbir Ahluwalia, Vivian Dsena, Armaan Jain, Vikram Thapa, Raj Kundra, Armaan Rehlan, Antoni Pecora, Sachiin Joshi, Jim Sarbh, Marc Robinson, Utsav Bachani and Mazhar Dalvi were also part of this illustrious team of philanthropists and football enthusiasts. Ranbir who has been known to be a football aficionado and huge Barcelona fan was the vice-captain of the squad.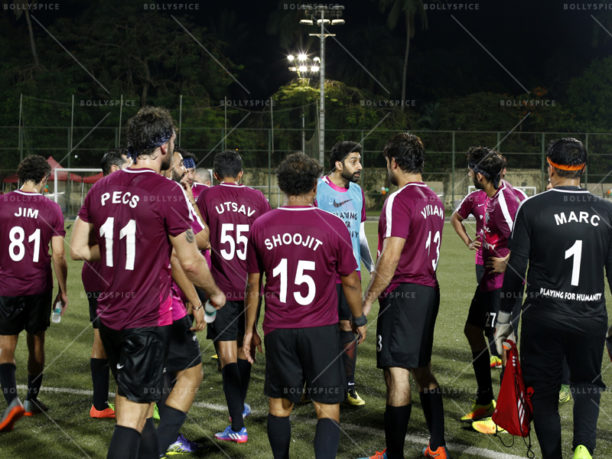 ASFC won the friendly match against CISF 2 – 1. The CISF team constituted of players from Maharashtra, Goa, Daman and Diu.
"­­­­I was very happy to get at least 5 minutes on the pitch after over a year just trying to recover from injury. I am so happy, the boys played immensely and showed great heart and we were up against a formidable team. I am so happy a win after a long time. Coming back from one down and then winning 2 – 1 and then holding it, the boys were just fantastic." said captain Abhishek Bachchan.
What is quite interesting is that the captain and vice-captain of ASFC are themselves proud owners of ISL teams. Abhishek Bachchan owns Chennaiyan FC while Ranbir Kapoor is the owner of Mumbai City FC. So their passion for football is quite evident.
India is proudly hosting FIFA Under – 17 World Cup in October this year. The Prime Minister Shri Narendra Modi has called for the support of not only children but also parents to encourage boys and girls to play football and develop both skill and fitness. The tournament will be a milestone event in many ways, but perhaps most lasting aspect will be Mission XI Million, which is a grassroot programme designed to encourage children to play this popular game.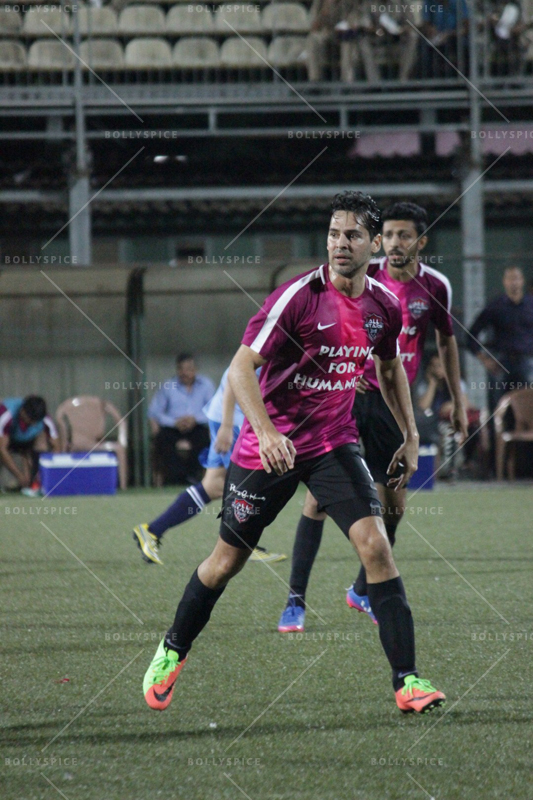 Mission XI Million is a school contact programme that aims at improving the football ecosystem and ultimately widening the talent pool for the national team. Vying to reach out to over 37 cities and 12,000 schools across all 29 states of India, the initiative will focus on games that can be adapted to different field sizes and conditions, with special emphasis on small-sided games. It is divided into three phases: seminars for teacher and educators, in-school activities and football festivals, which will run up to September, 2017.
Keeping in view of the appeal of the Honorable Prime Minister, MHA has desired that in run up to the Under 17 FIFA World Cup to be held in India in October 2017, State police and Central Armed Police Forces (CAPFs) should organize football competition with active engagement of young students, so that a feeling of competition is instilled among them.
Film producer & Owner ASFC Bunty Walia, said, "This is all in the spirit that is building up in our nation in anticipation of the FIFA Under 17 World Cup that is to be held in October this year. Our PM has expressed his desire to uplift the sport of football in the nation. Abhishek and Ranbir, who are both known for their love for football and their charitable spirit, worked around their schedule to make this friendly match a reality."