With great joy Amitabh Bachchan wrote today on twitter and his blog, "THE 'lady' is home. She is home! And nothing could give us all greater joy and happiness." The lady in question is the new addition to the Bachchan parivaar, Abhishek and Aishwarya's baby girl, who was born on November 16th.
The new father also took to twitter to proudly announce that his daughter, whom he is calling adorably beti B has come home from the hospital today, "Brought the girls home today. I hope beti B realizes the joy she has brought with her. The house is bursting with pink and proud grandparents."
In a wonderful tradition, Amitabh was the one to carry the baby from the hospital, "Carried her from the hospital as per tradition. My Father carried her father home".
On the way to Jalsa, where a very happy grandmother Jaya was waiting to welcome her, they stopped by Prateeksha, which was their first home, they then took the blessings of Amitabh's late parents, visited a temple and then came home.
Once the girls were settled Amitabh and Abhishek Bachchan addressed the media in Mumbai later that evening. Amitabh said, "We are very happy. Abhishek, Aishwarya and betiya all are well and in good health. Life changes when a new life comes to your house. Goddess Lakshmi has come to our family and we have brought Lakshmi ratna home."
Dada Bachchan says they are very happy that the baby is a girl revealing that, "We wanted a baby and by the grace of god a girl has been born and there cannot be a more happy moment for us all." Apparently both Jaya and Abhishek wanted a baby girl. "Jaya has given all her time to the child and she is very happy that a daughter has been born, Abhishek also wanted a daughter, I have said I don't mind anything happening just let it happen that's it," Amitabh added.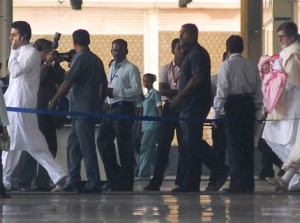 Aishwarya is apparently doing very well but tired of course. Abhishek said, "Aishwarya is also very happy and excited but a little tired. The best blessing a child can get was that the whole family was together my parents and my in-laws; all the four grandparents gave the child blessings."
Of course the big question is does she look like Abhishek or Aishwarya? "I think the child looks like Aishwarya," said Amitabh. "She looks just like her… eyes and all. But you all know that a child's face changes every day, but I still want to believe that she has Aishwarya's face, but few people in house believe that there is some resemblance with Abhishek," he went on to say.
The next big question is what is her name, but we have to wait a bit more on that, "We are still thinking on the name. It's just a thought that it should start with A. There won't be any naamkaran. As soon as we decide upon a name, we'll keep it." They have asked for suggestions on Twitter and say they will let fans know there once they have the name. "Thank you all for your generous suggestions of the name for the 'little one' .. sitting and deciding now .. should have one soon."
So how is Abhishek settling in to parenting? This first can be reveled by some recent tweets. "Just as I step into fatherhood and parenthood, I've never seen myself rely and depend on my parents more. Guess that happens with every new Parent. And I finally understand why they still at the age of 35 treat me like a baby and cannot accept that I'm a grown man today."
At the press conference he said, "I'm still getting used to the fact that I'm a father now. I am still getting use to being referred to as dad. Whenever I read in the paper and anyone referred to me as 'her Pa' I would think it is my dad whom I call Pa that they were writing about, so yes it is going to take a little for me to get used to being referred as a father because for me there is only one Pa — that is my father. It would take some time for the feeling to sink in, because for me the definition of father is Amitabh Bachchan."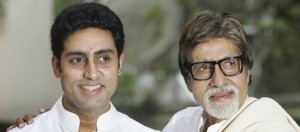 Adding, "It is not even been a week, so there hasn't been any changes, it is a blessing and it is a wonderful and we are just enjoying the moment right now. I don't think there has been any change, being the person that I am I think if I be half a good a father to my daughter as my father has been to my sister and myself I will be happy."
Talking about his Beti B, Abhishek said, "She's very sweet, obedient and very cooperative. Shant hai, zyada roti nahi hai (She's quiet and doesn't cry much). She is gentle and peace-loving."
We can think of no better description of the joy of a new baby then what Amitabh wrote on his blog earlier in the week, "The soft innocence of nature rests in my arms, oblivious of what else happens around her. Occasionally she opens her large and what looks now to be eyes of the lighter hue, which those that have dealt with similar, know shall change with time. Often the gentlest of smiles quiver across her pouted upper lip, the shut eyes bringing expression through the brows and the settling down to that dream she must dream."
We wish them many blessings now and always.