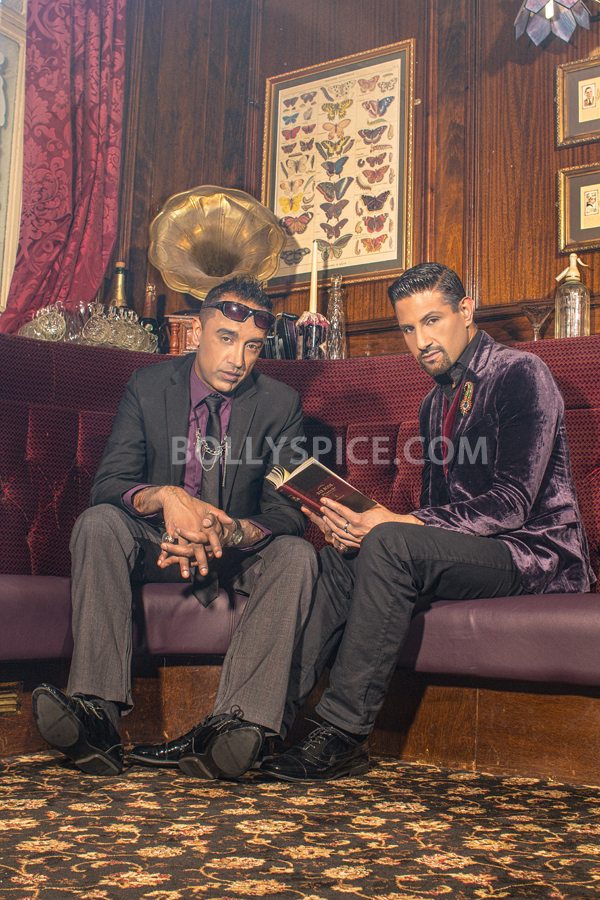 Abhishek Bachchan was recently on the BBC Asian Network's Love Bollywood show, where he spoke to the Bollytastic presenters Raj and Pablo about his performance in Bol Bachchan.
Raj and Pablo spoke to Abhishek Bachchan about working with his superstar father, how he finds comedy and his upcoming projects.
Pablo: With your surname in the title of the film was there a certain amount of pressure of the movie having to work?
You know I never really thought about it. When I read the script I just knew it was very entertaining and very, very funny so you automatically feel it's a film you need to do. Now it's safe to say, because of the name the film, it will be appreciated by the audience. Never thought of it but now you mention it, thank God it worked!
Raj: Did you know you always wanted to do the movie?
The fact that Ajay told me and Rohit and I are doing a film and I HAVE to do it meant I had no choice, he really literally treats me like family and a younger brother, so when he said do it, that was it. I can't argue with him. But the comfort we both share in person was needed for the roles we played.
Pablo: This is not the first time you have starred in a film with your father. Do you find it scary working with Amitabh Bachchan?
Oh yeah, even more for the other guys. They say things like 'your dad's on set behave, stay in control, reduce the coffee,' so it is a bit nerve racking when he's on set because at the end of the day on set I don't look upon him as 'dad'. He's THE Amitabh Bachchan and that's enough to scare the pants off any actor and you're working with the best in the business, so you have to make sure you're on you're 'A game' otherwise you're in trouble.
Raj: Comedy is one of the hardest genre's to work in. How do you find it?
It was terribly tough, it was the toughest film I've ever made because I believe comedy has very little to do with the actor. If it's not in the material, it's not going to be funny. You can slip on 100 banana peels or do whatever you want, if it's not written in properly, at the right time it's not gonna work. So yes, everyone was worried about timings, so extensive rehearsals took place; it actually took me a good week, 10 days to get into the correct pitch of the performance. We all really worked hard on it, even 2-3 hours after we'd wrapped up. Rohit and Ajay were great, but it was difficult.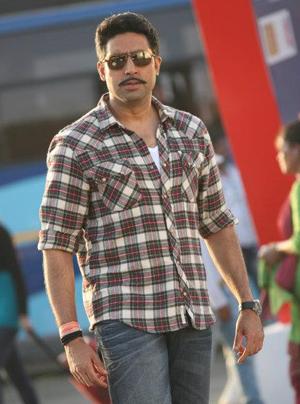 Pablo: What point in a movie do you realize something is funny when you are acting?
I'll show you scenes in the film where you can actually see me bite my tongue, because I'm like 'don't laugh don't laugh' as we've been through 20/25 re-takes and it's gone insane! You know when you're doing good work when the unit and co-actors cannot keep a straight face, and the tough part is in a comedy the one performing has to keep a straight face!
Raj: Archana Puran Singh was brilliant in the 'mother' scenes. How did you find working with her?
She just got it bang on. That was her first day on set actually and she was outstanding! I also believe when you surround yourself with such wonderful actors you know it's gonna fly, all you need to do is just hold on! It was great fun and I thought she was just brilliant!
Pablo: What else have you got coming up? 
Well I just started Dhoom (3). The film has Aamir, Katrina, Uday and myself but our new chor to catch is Aamir.
The full interview can be heard on: http://www.bbc.co.uk/programmes/b01kwz9y
For your weekend dosage of all things Bollywood related tune into the Love Bollywood show every Saturday and Sunday morning, 9am -12pm, on the BBC Asian Network.