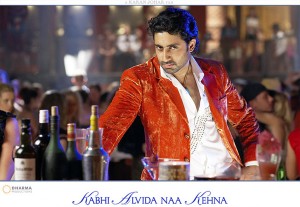 Today the 5th 0f September turns out to be an extremely special day. It was the day when Abhishek Bachchan was offered the role in the movie Kabhi Alvida Naa Kehna.
This movie had broken box office records in India and overseas that year. Abhishek Bachchan was well appreciated for his character 'Rishi Talwar' for which he won several accolades.
Abhishek clearly remembers this day and mentioned Karan Johar on his Twitter account.
Tweet:
Abhishek says: @kjohar25 offered me kabhie alvida na kehna. Allowing me to cancel out working with him from my bucket list!
Karan says: @juniorbachchan….and you were awesome in the film!!! A brat behind the camera and superb in front of it!!!
Karan Johar praised him for having great acting skills and living up to the expectations of the role in the much appreciated movie.