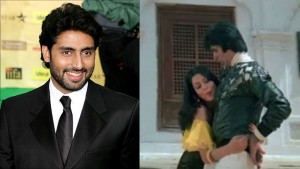 Abhishek Bachchan is thrilled to hear that the upcoming film Tamanchey is using the classic song 'Pyar Mein Dil Pe' as its tag line.
The original song, from Amitabh Bachchan's 1983 film Mahaan co-starring Waheeda Rahman, Parveen Babi and Zeenat Aman was a huge success and is one of Abhishek's favorites. It was sung by Kishore Kumar and Asha Bhosle, with R.D. Burman's music direction.
Suryaveer Singh Bhullar's Tamanchey is now reviving the classic with Bappi Lahiri. The version clearly shows how music has evolved over the last 30 odd years. While the song has a new age feel to it, it still keeps the essence of the original classic, making sure to attract Bollywood fans of all ages.
Tamanchey stars Nikhil Dwivedi and Richa Chadda and is directed by Navneet Behal. It is produced by Wild Elephants Motion Pictures in association with Fashion TV- marking its entry into the Bollywood film-making business. The film is slated to release on July 18th this year.