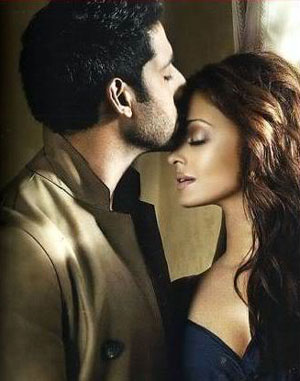 The Players star and legendary actor Amitabh Bachchan's son, Abhishek Bachchan is indeed jealous of his wife Aishwarya! Why is this, I hear you ask? It's because the recent father (of 6 month-old Aaradhya Bachchan) is jealous that Aishwarya isn't focusing her attention on him anymore! According to Abhishek, "Ash's day starts and ends with the baby. Since she insists on doing everything for Aaradhya, including giving her a maalish (massage), bathing her and attending to her round-the-clock, I'm now waiting in queue for Ash's attention." We guess that after a few years of being the centre of attention, it looks like Papa Bachchan doesn't like the divided attention of Aishwarya between his new daughter and himself!
Adjusting to the new-born was hard for Abhishek at first, "Aaradhya wakes up in the night for her feed and a nappy change. Ash, who's completely clued in, is up in a jiffy. However, I must confess, it took time for me to get used to the new routine. When the baby cried, I woke up too, but couldn't go back to sleep immediately." So Aishwarya told him to stay out of the bedroom, until "Aaradhya was slightly older," Abhishek confesses.
Admittedly it was due to the Junior Bachchan's hectic shooting schedule that forced him to sleep separately as he states matter-of-factly, "I can hardly come on set yawning, so Ash suggested that I should sleep separately whenever I have a shoot the next day."
"At home I have my Nani (Indira Bhaduri), Mom, Shwetadi, Navya Naveli (my niece), Aishwarya and Aaradhya. I also have my chacha's three daughters. I'm blessed to have so many women around me," the Bol Bachchan star exclaims happily. We guess that having all these women around him will make up for the lack of attention that his wife is giving him! Let's hope that Junior Bachchan will have got over this temper tantrum!