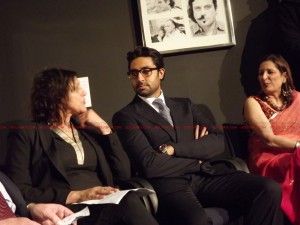 Bollywood actor and festival Patron Abhishek Bachchan attended the Opening Night of the 14th London Asian Film Festival hosted by Tongues on Fire last Friday at the prestigious British Film Institute.
Addressing the media and talking about his association with the festival he said: "I am really honored to be part of Tongues on Fire, a movement that highlights and gives a platform to showcase new talent coming out from Britain. I have been saying for a long time that I enjoy the short film section as I think that is where the real talent is and they don't necessarily have the funding we have for full length feature films. They get the opportunity to showcase they work and maybe, impress upon some people and maybe get proper film made."
British actor-comedian Meera Syal was also in attendance at the opening night of the festival and Abhishek spoke about the importance of Film Festivals and working in British films. The actor said, " I have seen the festival grow from year to year and I feel very uncomfortable here speaking about the film as I am the only non-Brit actor present here who has not worked in a British film and have only worked in mainstream Bollywood. But I hope that one of the directors gives me chance and I would be honoured to work with them. I had the absolute honour to work with Meera Syal very briefly in Jhoom Barabar Jhoom and I am a huge fan of all the work she has done. She is a great example of the talent in the country. I really hope that we can inspire people and that next year we have more interest in the Festival."
Meera responded saying, " We are honoured to have you here. Directors would be crazy for not wanting to work with you."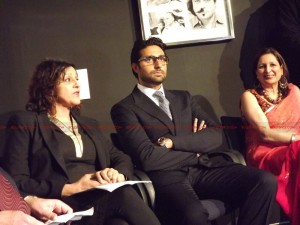 As the London Asian Film Festival is highlighting Pakistani films this year, Bachchan expressed his views on films from the country saying: "We are showing Bol which is an immensely brave and bold film apart from being brilliant. I had the pleasure of seeing it back home. It's a very brave film and I am so happy that we are showing it here at the London Asian Film Festival. Pakistani cinema is getting a lot of attention and its through festivals like the London Asian Film Festival as this year we are highlighting Pakistani cinema. I think through efforts and endeavours like these that we build more hype about Pakistani cinema. I think that is what is required. The talent is there and I think we just need more media attention to the films."
He went on to say that talents of the two countries should work together and that Pakistani films have the potential to do well worldwide, "A wonderful trend that has started back home, being an Indian I can say that we have started using a lot of Pakistani acting talent in our films. We have been sharing muscial talent for a long time. I think the time is upon us when a lot of Indian actors should go over to Pakistan and do some work. It would be wonderful to see a Pakistani director come to India to make films. I really feel that the next two-three years are going to be very important for Pakistani cinema."
Speaking about the business of Indian films the actor said, "I think Indian Cinema has changed a lot. We have finally started to understand the business side of the film. I think that has been the change. Indian Cinema has always been exciting to watch. We have a particular brand that we cater to and I don't think anyone is apologetic about it. We love Hindi commercial masala films and made a lot of off-beat films as well. I think, we have managed to get our films more out there in the last decade. I really think the introduction of the multiplex in India a decade ago made a really huge difference."
The festival closes with an Awards Dinner at BAFTA on 24 March 2012. Bollywood director Sanjay Leela Bhansali will be honored with an award in recognition of his work on disability in Indian cinema.
Photo credit: Kishore Bhatt