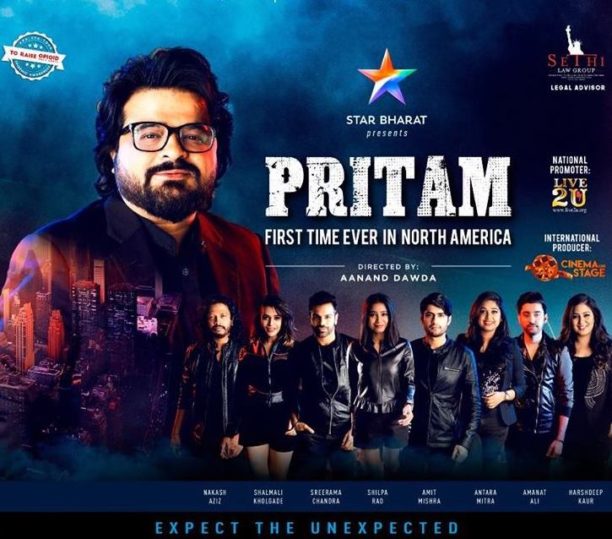 Known for creating incredible music for Bollywood films as well as unconventional and brilliant background scores, Indian composer Pritam Chakraborty is gearing up to win over his audiences with his first-ever North America Tour in association with INXS Productions & IAGC. The acclaimed composer-singer is excited to begin the tour with the very first performance scheduled to happen on 6th April, 2018 (GMT-5) at the 'Sears Center Arena' in Chicago, USA.
In a first of its kind concert, a team of outstanding singers including Harshdeep Kaur, Nakash Aziz, Shilpa Rao, Sreerama Chandra, Antara Mitra, Amanat Ali, Shalmali Kholgade and Amit Mishra will collaborate with String & Brass Musicians from North America to jam together to create something truly special. Adding to the excitement, the gig will also witness a contemporary twist with Gospel Choir from Nashville joining the music tribe.
Pritam exclusively told us, "I am very excited for the North America tour; it's for the first time I am doing a concert there. I am looking forward to meeting all the fans and perform in front of them, as they have given me continuous love all these years. I know it's going to be a thrilling and happy experience."
Get ready to watch Indian musicians create waves and blow the audience away with their Desi tadka in the west too!
The tour moves on to New Jersey's Cure Insurance Arena on April 7th, then brings the music to Ricoh Coliseum in Toronto on April 8th. Then starting the 13th, the concert will rock Allen Event Center in Dallas and then hit Pasadena Civic Auditorium Los Angeles on the 14th. They then will travel to make music in Washington at DAR Constitution Hall on the 20th, San Jose's Event Center on the 21st and then the concert triumphantly ends on the 22nd at the Xfinity Arena in Seattle.
Check out these cool rehearsal and sound check snaps!