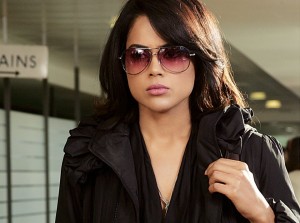 Action girl Sameera Reddy who will be seen performing high octane stunts in Tezz says it was not easy. While Ajay Devgn termed her as one of the heroes of the film, Sameera says it was not as cool as it sounds. "I was told by director Priyadarshan that I would have to do a lot of action and I was excited about it. However, when the actual time of shooting I was not prepared for such high definition stunts," she says.
Going on to add, "When we started shooting I was falling of the scooty and on the last day I fell and hurt myself. I asked everyone on the sets not to talk about it but finally my parents came to know when stories were published."
Then there was the day of the really cold water, "I have done water rafting. I was made to swim in two degree temperature water and had to jump in it too."
Sameera says apparently the crew took a lot of safety measures, "They were commendable and they block their entire areas when their shooting so we actually didn't have to worry about hurting ourselves. It was scary yet at the same time very exciting too," she concludes.
You can see Sameera's action act along with Ajay Devgn, Anil Kapoor, Kangana Ranaut, Zayed Khan and more when Tezz hits theaters on April 27th!