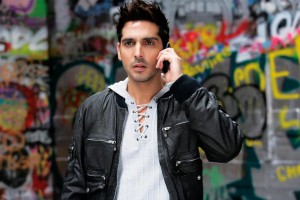 Zayed Khan, who last featured in Love Breakups Zindagi, is excited about his forthcoming movie Tezz, and the excitement stems from the fact that he outshone everybody in the action scenes in the film.
The actor says he is back in action after a gap of four long years. The last time one saw him doing neck breaking stunts was in Blue. But action in Tezz says Zayed is far different from the action that he has done in his earlier film. "It's something that I have never attempted before. There are amazing stunts and action in the film. I needed to learn Parkour and my role is fantastic," says Zayed. Parkour is ा physical discipline, which focuses on efficient movement around obstacles. The main purpose of the discipline is to teach participants how to move through their environment by vaulting, rolling, running, climbing, and jumping. "I trained for 15 to 20 days as I was already a trained in martial arts. But I learnt amazing parkour from Hollywood training artistes James who is not only artistic but also elasti,c" says Zayed.
The actor reveals that director Priyadarshan wanted someone who could perform such daring stunts and he was all game for it. "I was already into martial arts earlier but this was tough as this is free based. It needed a lot of running, turning, jumping over walls. Going quickly from point A to B and negotiating in the process. You need to really think fast. Be quick in your mind and reflexes," he adds.
The actor also injured himself in the process. "Yes I injured myself. I tore my right knee ligament but that's all right. It's the price you have to pay for being an actor," he expresses.
Of course then there were those many hours in the water… Remind him of it and he smiles. "Oh yes I was neck deep in water and Ajay Devgn had the last laugh over it. Just before we had filmed the shot he had asked me whey I was risking my life by doing such stunts and I had told him I enjoyed it and would take care little realizing the repercussions of the dangers lurking there."
He added more detail saying, "We were shooting a scene on the canal and we were sitting on the banks of the canal discussing over it. Ajay told me I would get hurt and it was not easy. The canal was freezing cold. I was asked to jump from the bridge on to a jet ski. As we started shooting I misjudged the boat and before I could me and the stunt man both toppled over and we were in the freezing waters in a fraction of a second. The water was filthy and dirty and even though I am a good swimmer I felt like ten thousand daggers were peiercing my body. I couldn't move. I just wanted to come out of the water and when I looked around I saw Ajay standing on the banks and laughing at me." .
"My enthusiasm was literally watered down after that scene" adds Zayed.
Last but not the least Zayed says is the experience of working with director Priyadarshan. "He is the kind of director who doesn't let go of drama. His joy and his happiness is an extension of what he makes. I don't know why director Priyadarshan is known for his comedy ventures, he is better in action," he concludes.
The octane Tezz, which also stars Ajay Devgn, Anil Kapoor, Kangana Ranaut, Sameera Reddy, Mohanlal and Boman Irani is in theaters now!