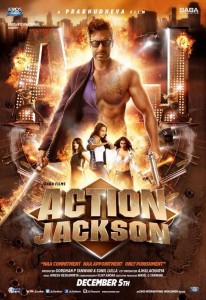 Whichever way you look at Action Jackson, the puns, the slapstick and the lack of plates for everyone to eat on in beginning is all synonymous with a particular kind comedy action masala. The little touches of style maybe what Prabhudheva is famous for and the leading ladies Sonakshi Sinha and Yami Gautham might add eye candy, but there is nothing new nor entertaining for this Ajay Devgn starrer. Besides Ajay of course.
In most cases, you would start with a story. Two guys, AJ and Vishy (Ajay Devgn) both look alike, no relation. One is a small time yet high powered thug. The other doing a runner from his Mafia Boss. Its all comedy and action with a dash of semi-nudity and lots of mini skirt/ghagra thumkaas till the duo join hands for… wait for it… more comedy and action. But would you call it comedy if it was unintentionally humourous like Kunaal Roy Kapoor foodie performance? I guess it's not meant to be taken seriously. Why else would the Mafia Boss (Anantharaj) have orange suit wearing goonies to do his yes sir and still expected to be ruthless and menacing.
Chalo, maaf kiya. The back up isn't that great either. Vijay Kumar Arora's cinematography could only make up for so much of the shortcomings of A.C.Mughil's story. The screenplays gapping holes seemed to have missed the eyes of Prabhudheva, Shiraz Ahmed and Mughil. With misfortune at hand, you can't really blame Bunty Nagi for his editing but you do wish he had used his scissors more on the 145minute feature. Not really worth mentioning the music since Himesh Reshammiya  is hell bent on slapping his music to your ears or making you pick your own as to where you heard the original from.
So Ajay isn't backed by the legendary story telling he has won awards for. Even Bajirao Singham had more snap the second time than Aj and Vishy put together. Sonakshi my darling, too much masala isn't good for anyone. But keep up the workout. Yami needs a new manager if this was supposed to be a stepping stone for her into the big leagues. Manavsi Mamgai looks like a million bucks but you don't need me to tell you that. Anantharaj hasn't been seen in Hindi cinema for a while but somehow the actor who has had his fair share of stardom in the South doesn't bring the pizzazz with him this time.
Normally turning off your thinking cap and going with the flow would work when you have films like Action Jackson. In fact it has most aspects from Prabhudheva's previous films including a leading lady, Sonakshi. Yet, the ace choreographer and director has fallen short this time. No Action, No Jackson. Only an urge for extraction. From the theatre halls. ASAP.