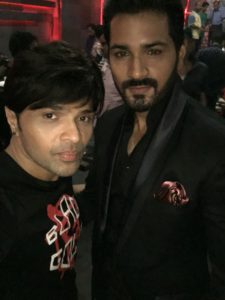 After popular television actress Puja Banerjee appeared in the title track video of the multi-talented Himesh Reshammiya's album Aap Se Mausiiquii, TV actor Mrunal Jain also made an appearance in the albums third video Tonight.
Mrunal essayed the role of the suave casino owner and Riya's (Alankrita Sahai) evil boyfriend Don Pablo. In a recent interview with Just Showiz, Mrunal shared his experience of shooting for the video, "Shooting for this music video with Himesh was wonderful because everybody in the industry knows what an awesome composer, singer and talent Himesh is. To be honest, I am a great fan of his work from the time I heard 'Aashiq Banaya Aapne' and 'Tera Suroor'. I still love these songs and his songs from 'Namastey London'. Working with him is like working with a huge brand! Actually, all my looks were managed by Himesh himself. He wanted me to look like a rich casino owner as well as the boyfriend of Riya. He wanted the video to look very international and not too desi. He told me to wear a tuxedo and lenses. What I really appreciate is that even though I am not a major part of the video, still he wanted me to look the best."
Mrunal continued, "Working with Himesh was like working with a close friend. So, on set he treated me very well, he told me to sit with him only, use his own makeup artist, his own hair stylist. He told everyone to take care of me. He told the crew with him to take care of me. So, it was not like working with a producer, but working with a friend. So I felt very nice. And the way he showed me in the video I feel it's the trailer of what I can be next."
The full album of Aap Se Mausiiquii released on Monday at a grand ceremony with living legend Amitabh Bachchan. Five more videos will be releasing soon from the album. Enjoy the video of Tonight below and stay with BollySpice for all future Aap Se Mausiiquii updates!
In association with Himesh-Reshammiya.com