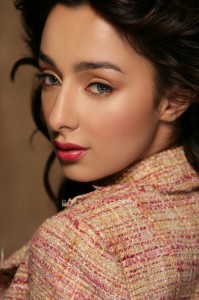 Going on in the UK now and running through the 25th of July is the fabulous London Indian Film Festival. This festival showcases a world of Indian independent films that according to actress and brand ambassador Feryna Wazheir, 'breaks new ground with its programme, giving young talent a real platform to showcase their work and for audiences to see another side of Indian cinema.' You have seen the British-Asian actress, who just signed a cool two-film deal with iRock in India, in the fabulous Sadiyaan – the Bollywood film on the India-Pakistan partition, that also starred Rishi Kapoor, Hema Malini and Rekha. In her second year, Feryna Wazheir says she is 'delighted and honoured' to be brand ambassador for LIFF. See what else the lovely actress told us in this exclusive interview including her top 5 films she is most excited to see at LIFF and more!
Is acting something you always wanted to do?
Well, I've always known I could never work in a 9-5 job. I don't like being confined to a structured day. So I've always known I want to do something that will allow me to be spontaneous. I like being able to pack my bags and fly off somewhere – which acting definitely requires you to do.
But I've actually previously considered lots of careers as my interests are quite diverse. I'm very interested in human rights, psychology and broadcast journalism. Being a war correspondent, journalist and human rights activist were all on my list at different points. But ultimately, I love the spontaneity of acting, so it was always the career for me.
Tell us about your road into films.
I began doing acting-related things when I was around 16. Being selected to feature in corporate and educational videos for various companies.
As a student I started getting offers to do voiceovers in Urdu and Punjabi. This lead to acting offers, largely because there was a lack of Asian actresses up north. This is what piqued my interest. It was something that I was naturally getting offers for. When I was a student I went to India during the Christmas holidays. I spent two weeks in Mumbai and before I knew it was just continually doing shoots for magazines such as Elle, L'Officiel, Seventeen as well as receiving movie offers! That's when I decided to pursue the India connection. I then started training at RADA and then moved to India where I trained in dance and theatre.
You are in London for the London Indian Film Festival; tell us about being a part and being a brand ambassador for the cool festival.
It's a lot of fun to be brand ambassador for the festival. I'm really looking forward to all the events. I love the opening night. It is always the most exciting. But this year I'm also looking forward to the closing night as we will have Bombay Talkies – the Indian anthology feature consisting of four short films, directed by Anurag Kashyap, Dibakar Banerjee, Zoya Akhtar and Karan Johar.
The entire festival is definitely one to look out for. The UK premieres include a couple of films fresh from Cannes. Also some new films in Punjabi and Gujarati. There will be networking events and opportunities to meet some of the stars from films that are invited over, including Irrfan Khan and the godfather of Kerala cinema Adoor Gopalakrishnan.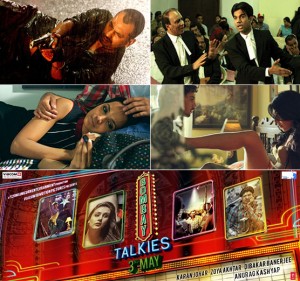 What do you think makes LIFF so special?
The festival showcases cutting edge, new Indian cinema that you can't see anywhere else, and these are first time previews before the Indian releases. The festival has steadily grown in its following and is now well-renowned for showcasing emerging and established talent in a whole new light. It also opens up independent South Asian films to a new generation of audience looking for an alternative to Bollywood films. It is such fun atmosphere and it creates a sense of new British Asian identity based on India's new global image.
What films would you love to watch at this year's festival?
Actually, I have five top picks as my personal favourites.
Monsoon Shootout is a brilliant and thought-provoking film which uses a style similar to Sliding Doors to explain its narrative. It's a tense and gritty thriller and the director Amit Kumar is really skilled.
Shahid is another one I'd like to see. It's an edgy political drama by director Hansal Mehta. It's based on real-life events of a young Muslim man who gets drawn into a radical group and joins a militant camp in Pakistan. Once he realises his mistake, he actually becomes a lawyer, defending people accused of terrorist attacks. It's a powerful courtroom drama.
The third film is called Josh and it's a subject that is very close to my heart – female empowerment. The issue of women in Indian cinema is the central focus of LIFF this year. This movie is LIFF's first ever from Pakistan and focuses on the themes of class separation, feudalism, poverty and female empowerment.
BA Pass is a film which represents a new wave of filmmaking from South Asia. This is actually referred to as the Indian version of the classic 'The Graduate'! It's enthralling – a tale of seduction and betrayal with tragic consequences. It's quite a controversial film.
Finally, as I mentioned before, Bombay Talkies is definitely one to see. It pays homage to 100 years of Indian cinema and is a collection of four short films shot by some of the finest directors from South Asia.
What are your thoughts on the cool Indian independent films coming from all over India?
I think it's brilliant. The London Indian Film Festival is very selective in the films it picks. It really strives to get the best and latest indie films so in terms of content it is very strong. It gives a much needed different perspective to the usual Indian fare that audiences are used to. These films aren't in the UK for a very long time, so make sure you don't miss out on them!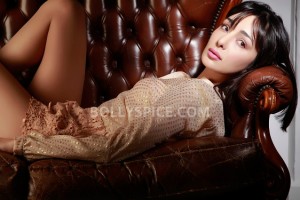 South Asian films certainly seem to be much more in the world now; do you see this to be true?
Yes, I think there is definitely an increase in awareness of our cinema. But the Asian diaspora is moving all over the world and so our films go to those countries to cater for them and simultaneously get seen by the local culture there.
What are your thoughts on Bollywood today?
In many ways it is changing dramatically and other ways it is exactly the same. It is what it is and it does it extremely well. The song and dance routines are an intrinsic part of the Bollywood film and they remain popular today as they ever were.
Can you tell us about the film Khaana and your role?
Khaana is based on a poem by Anjum Malik on fish and chips. It's about a young pregnant orthodox Muslim woman's engagement with her new culture through her relationship with food, specifically the local cuisine. It's about the hybrid of two cultures.
How was it to work with Cary Rajinder Sawhney as director?
It was a lovely experience. The whole team at Imagineasia Productions were great. Cary is a lovely person and very open to new ideas and discussion.
The film has won several awards, how does that feel?
It's nice when small films like these take a life of their own and get appreciation at festivals. I enjoyed filming it a lot but never thought it would take on such a life of its own. It's been a really great response.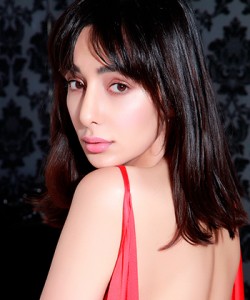 Now you have just signed a fabulous two-film deal with iRock, which we know thinks outside Bollywood. Can you tell us how that came about?
I had met the CEO of iRock films, Siddhartha Jain, a few years back. It was a liking of minds. We said we would work together at some point.  When I returned to India we reconnected and begun discussions on projects that we both felt would be suitable for me. Sid Jain is super creative and has great principles. It's important to work with people you feel comfortable with.  The projects that I have signed for will be worth the wait!
Can you give us a sneak peek into the films you will be doing for them?
(Laughs). Unfortunately, things are under wraps for the time being, but watch this space!
What do you love about being an actress?
I love many things about being an actress. I enjoy thinking about the different characters I have to play and getting into their mindsets – it's really interesting. I especially love the travel, I love living out of a suitcase, I love the lack of routine. Variety is the spice of life. 🙂
What are your hopes for your career?
I'm not sure what my long term goals are. I just like to take things one day at a time and want to be a part of good cinema acting in films that I am proud of.
Besides attending red carpet events and screenings Feryna will also be taking part in an exclusive industry panel at BAFTA on Wednesday 24 July following the screening of Josh. She will be joining first time directors Iram Parveen Bilal (Josh), Amit Kumar and producer Trevor Ingman (Monsoon Shootout) as well as British filmmakers Hammad Khan, Atif Ghani (Ill Manors) and other LIFF guests to tell it as it is. They will share their experiences, and reveal the highs and lows, of filming in South Asia, to which Feryna is no stranger.
We will be keeping an eye on the exciting new actress and will be sure to find out more about her iRock films as soon as we can!