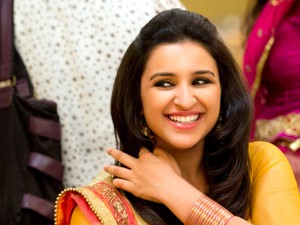 Actress Parineeti Chopra is gearing up for the upcoming release of much awaited Hasee Toh Phasee.
The actress, who made her debut in 2011 Ladies vs Ricky Bahl, has received good reviews during her three-year-old career, as well as numerous awards such as the National Film Award – Special Mention for her acclaimed performance in Ishaqzaade.
Parineeti is very grateful for how her work has been received so far. "Thankfully, there is no film where I am ignored. I hope that never happens. I hope I never lose the appreciation, the people who like me. I hope people don't get bored of me. That fear is always there," she recently stated in an interview for TOI.
For the 25 year-old actress, the possibility to perform different roles is an important aspect to take into account when accepting any project. "In Ladies vs Ricky Bahl I was a Punjabi, child like brat character. In Ishaqzaade I was an aggressive girl with guns and in Shuddh Desi Romance I was quiet a sensible girl who talks very less. There was nothing common in these films," Parineeti said.
In fact, her role in Hasee Toh Phasee is quite different from her previous films, and this was a big challenge, as she herself admitted. "It was quite difficult to play the role of a scientist […]. There was no reference point for me. No actress in the industry has ever attempted to do a role like this because in our industry either the female characters are normal or mentally challenged. My role is a cross between the two."
Parineeti's acting abilities have led to her being compared to Bollywood icons such as Rani Mukherjee and Kajol. Although overwhelmed, the actress seems very pleased with this compliment as they are role models to her and a good example of what she wants her career to be. "It is a great thing because they were actresses that directors used to think can pull off any role. They had that confidence in them. I also want directors to think that if any role is given to me I can do it," she said. "I want to be the best actress that I can be without becoming an arty one. I want to be a commercial and great actress. Rani, Kajol and Deepika are great actresses including my sister Priyanka Chopra," she added.
Produced by Karan Johar and Anurag Kashyap, Hasee Toh Phasee is directed by debutant Vinil Mathew and also stars Sidhart Malhotra. Get ready as love goes cuckin frazy on 7th February!