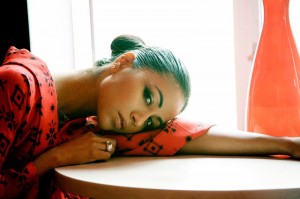 The amazing Karen David certainly has had a busy 2013. The actress was seen in the US Television show Castle in a two part episode, then she filmed for the upcoming UK production Amar, Akbar & Tony. Her upcoming EP Dust to Stars comes out on the 23rd so putting on her singing avatar she shot the videos for the tracks, planned a concert tour for the album, then back to her acting hat auditioned and won the part in a play in California and Oh Yeah… in the middle of all of that got married! As she says it has been manic but she loves it! During a little break, we were able catch up with Karen to find out more about her work on the film and her upcoming album! The interview was more a conversation and was so fabulous and well… long we had to divide it into two parts! First up are the cool exclusives about her experiences on Amar Akbar & Tony!
Amar, Akbar & Tony and a wedding or two!
I had received the script and I really liked it. It's funny because as an actor you do independent films for 3 reasons – if the part is amazing, the director is fantastic and his vision is wonderful, and the script and story is brilliant. All three of them ticked the box for me on this movie. I was so excited! They had contacted my agent and wanted me for the part of Meera. I put myself on tape not knowing what was going to happen. Then I didn't hear anything for a few weeks. I was heading back to London for a few weeks in April and I think the day after I landed I had a meeting with the director Atul Malhotra and Victoria Wood, the producer. They told me right then and there, 'We saw your tape. We love what you do and we'd really love you to play Meera. You'd be perfect for it.' I was excited! Then I said, 'Great! When do we start filming?' He said, May and my heart just sank. I was like 'May!!! Oh my God!! I've got my childhood best friend getting married on the 18th and on top of that I am getting married on the 30th. I don't know if this is going to work'. In fact, I really thought that it wasn't going to work. I told them as much as I love the script, the character and I love Atul's vision for the movie, I would never ask for the schedule to be dictated around my wedding. So I said to them, with a very sad heart, 'I do not think I will be able to do this.' They really wanted me to play Meera and so Atul and Victoria, God bless them, totally made it work. They changed the schedule around and the whole cast and crew was completely supportive of it. I was so happy that they were able to work around it. On top of that my amazing husband who was just so supportive and said, 'Look if it is a good script and I can see that you really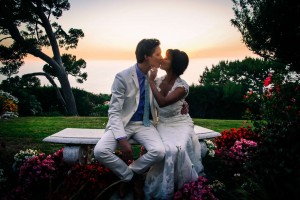 want to do this then you should go do it and we'll work things out, don't worry'. The irony was that when we were planning our wedding 5 months ago I had asked my agents in America and in London when is a really good quiet time to get married? They unanimously said May, it being the really dead, quiet time, perfect for it. I said, 'Great! I will take it'. With the kind of lives my husband and I have, we can't really book a wedding and plan it a year in advance like most people can -we don't have that luxury because things come up last minute all the time. So we thought if we had 5 months to plan the wedding and May would be a quiet time, it would work. Quiet time…couldn't have been further from the truth. It was so manic! But somehow I am sitting now here talking to you and I feel okay (Laughs). I made it through. I was really lucky and I was able to do the film!
The story of Amar, Akbar & Tony
Amar, Akbar and Tony are 3 best friends. There is a brotherhood between the three guys who all are from different backgrounds. It is set in a quaint neighborhood in England and takes place going back a few decades to the present time and it is about the camaraderie and love between these three friends. I know it is about the guys, but you know that saying 'behind every successful man stands the reason behind it' … that is the 3 girls. There is me of course, then Goldy Notay and Laura Aikman are in it as well – amazing actresses. It's a really good take on South Asians in England embracing their roots rather than running away from it. I can relate so much to this story in the sense, I mean I'm not even second generation South Asian, I'm first generation because I was born in Himalayas. But I know when I came to England and Canada and then back to England you know you want to fit in. It is about fitting in to a whole new world, a whole new culture, where things are very different and then also staying grounded and rooted with the traditions of where our parents come from. Certainly in a place like in England the South Asians and the Asian people they are very deeply rooted to their customs, cultures, and family traditions. It is trying to find that happy balance between respecting that side of things as well as fitting in with the Western society and fitting in with other cultures as well. So, that all is reflected beautifully in this movie where it is really refreshing take on the young South Asian's that are actually embracing this new change as well as their roots.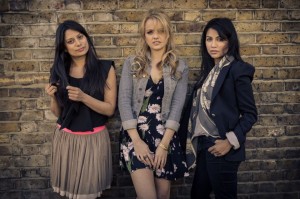 Her character Meera
Meera, there is so much I would like to spill the beans on but… Meera is a very mysterious character. I've never played a character like her. Meera has a roller coaster of emotions. It was really challenging because there are a lot of highs and lows about her. The minute she walks in to the movie everyone wants to know: Who is this girl? What's going on? What's her story? There is something going on and they can't put their finger on it. So she comes in very mysterious. All is revealed eventually throughout the film of what's happened to her. As I said it's a roller coaster of emotions for her. It is really funny because having just being married I'm on like this bliss high and so happy, happy and then having to play a character that goes through twists and turns, ups and downs, happy moments and sad moments and really scary moments too. I was exhausted. I loved playing her and it was extra challenging to me because obviously in my personal life things were just happening, my wedding, being with family and friends, from all over who flew into LA, so it was a really happy times for me. It was really extra tricky for me to go into some dark place sometimes. But you know what, that is what I love. I love throwing myself over the deep end and trusting that with an amazing director and amazing cast that I am working with that everything is going to be fine and of course it was. That is what I get excited about playing characters that are very different from me. Meera's different. There are some things that I can relate to. She has a very big heart; she deeply cares about those around her. It is interesting how she comes fresh off the plane from India and all of a sudden she's thrown into this new family and she's trying to fit in as well and it is about how she goes about dealing with these sudden abrupt changes in her life too. I think people are going to find it very relatable in some areas. She's someone to really watch for the minute that she walks in (Laughs).
Her Preparation: Just be the character
I really feel at the end of the day keep it simple really – you have to be. It's not becoming a character, you already are them, it's an extension of you in a way. It is like if this is me, how would I be in this situation? You know, you just breathe life into the character. You are just simply being. I tend to not over think things too much. I just like to just do it and that's the only way you can really be truthful to a character. I often think that actors who have a lot of life experience – that is the best training at the end of the day. I've seen the world, travelled, met loads of people – good and bad, and it's all those life experiences that you draw upon when you are trying on a new character. So I just keep it really simple and I just be. And I just try not to think too much about it and just go with my gut instinct of what I would do. That's my way of being very close and truthful and genuine with the character.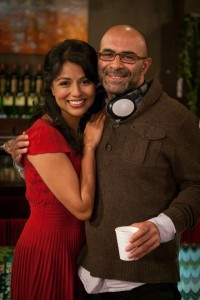 Working with the cast
The six of us we had so much fun working all together to create this beautiful story. I think this is one of the nicest cast and crew I've ever, ever worked with. It's funny when doing independent films there is much more of a community spirit on set, where everyone is working so hard to try and make something really special and they are just going out of their way to go that extra mile to help each other. I had so much fun even when we had really long hours. And I was so jet-lagged from coming back and forth from LA to London. It was quite painful sometimes and I thought I don't really know if I can actually do this, but because everyone was so wonderful we were just like this big family that I could do it. I've made life long friends on set. We just got through it on adrenaline and having so much fun. We really had the time of our lives. It's a bittersweet feeling that it's done and dusted. I can't believe 6-weeks just went like that.
What she loves about the movie
Atul has created this beautiful film about these childhood friendships and closeness and the importance of family relations and friendship. Yes, it is based around Asians and South Asians but you'll also see non-South Asians (I don't want to give away too much) in the movie but it is embracing the British culture. I think not only will the South Asian and Asian community be endeared towards the story but also I think people of all ages and people of other cultures can relate to this as well. Because at the end of the day it talks about universal theme of family, friendships and love and fitting in with other people and relating to them. It's a really feel good film and I think people of all ages are really going to enjoy this movie.
Shooting in the UK
You know what… I always love filming back home. Because for me I divide my time between LA and London and they are both my home. So I am used to going back and forth. I've been filming for the past 5-6 years on location from like Bora Bora, to Cape Town, and Malaysia, you name it. So it is always so wonderful to film in London proper. The film is right in the heart of London and it was so exciting. There's just that vibe in London that I can't explain it… it's that city girl in me that just loves the vibe there, you know. Atul's really captured the essence of the heart of London in this movie. So it's been really wonderful to film all over. We are filming mainly in South London, West London, South West London and I live in those areas too. So it was nice to be totally close to home for a change.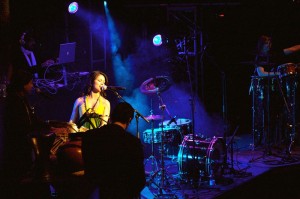 The Music of AA&T
There is going to be all kinds of music. There is obviously going to be Bhangra and Bollywood music but there is also going to be Western music, which they were talking to me about – that I would do the music for the film. I'm really, really excited about it. I would love to write a creative song for Meera and her relationship with so and so, which I won't tell you who… (Laughs) Music plays such a huge part in film and helps the story and Atul has really prioritized the importance of having a good soundtrack for the movie. I am really excited and I'm so looking forward to doing music for the film. Especially having now finished filming, knowing everyone so intimately and so well now and the character so well – it makes writing a song so much easier and more heartfelt because we've been through this whole experience together. It's now the next chapter and it is really exciting for me.
Up Next
I have been shooting a couple of music videos for my EP because I have my new EP 'Dust to Stars' coming out on August 23rd. I'm doing a bunch of gigs in London, which I am really excited about. Pre-iTunes festival time so I'm looking forward to that. Then I am going to start rehearsals for a play for La Jolla Playhouse in San Diego. Ayad Akhtar, he won the Pulitzer Prize for drama this year, has written an incredible new play called 'The Who and The What'. This was another crazy wedding thing…I was warned I was going to have the meeting the day before the wedding. So I was like 'I can do this, I can do this'. So before wedding rehearsals I went straight to a meeting and it went really well and then I went straight to the wedding rehearsals, had the wedding the next day and then found out I was going to have my call back the day after our wedding (Laughs). Oh My God! I thought how am I going to memorize all these lines because they gave new scenes, but it's not everyday that you get to meet a Pulitzer Prize winning writer and dramatist… like I'm going to say no to that. So again, again my incredible new husband was very supportive and said 'Oh, you've got to do it'. So that morning we went back to the venue of the wedding to pick up some stuff in a U-haul… this is so not Glam is it? (Laughs) Then we drove in the U-haul to the call back. I met Ayad and the director and they were so touched we came the day after wedding. I told them I loved the play so much that I so wanted to do this. It went well. I think my husband was my good luck charm because I got the call that I got the part. So I am in rehearsals for that now.
Stay tuned we will have part 2 of our cool interview with Karen as she talks all about 'Dust to Stars' and her upcoming concert!