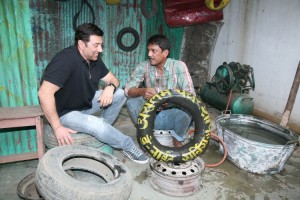 Adil Hussain is one of the most respected actors in the Indian film industry today, but the Life Of Pi actor was recently spotted repairing Sunny Deol's punctured tire at a makeshift garage near his residence!
Surprised? Well, don't be… it was a part of a promotional activity to promote upcoming film Zed Plus, in which Adil Hussain plays the role of a puncturewala named Aslam. The photographs taken at the venue show that Adil was indeed taking his role quite seriously while Sunny, who was joined by the film's director Dr. Chandraprakash Dwivedi, looked on with an amused smile.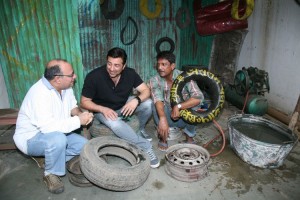 Directed by Dr. Chandraprakash Dwivedi, Zed Plus is a political satire about a poor man, who is given Zed Plus security following a chance meeting with the Prime Minister of India, leading to hilarious consequences.
Presented by Niyati and Akshay M. Shah and produced by Mukund Purohit and Mandira Kashyap, the socio-political satire also stars Mona Singh, Mukesh Tiwari, Sanjay Mishra, Rahul Singh and Kulbhushan Kharbanda and is slated to release on November 28.