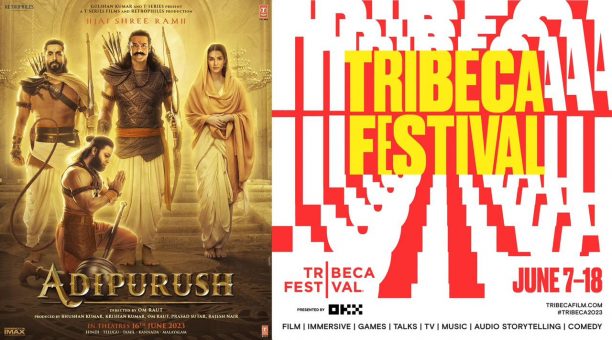 Here is some Breaking News! Adipurush, directed by Om Raut and starring Saif Ali Khan and Prabhas, will have its world premiere at the renowned New York Tribeca Festival in June. Adipurush is the award-winning director's magnum opus depiction of the greatest epic in Indian history and culture, The Ramayana.
Produced by Bhushan Kumar, the team has now announced that not only the Indian diaspora but the world will witness the grandeur of Indian history and culture. The movie will be showcased on June 13th at the Tribeca Festival, which takes place from June 7-18th. Then, the film will release in India and globally on June 16th.
The Tribeca Festival, presented by OKX and founded by Robert De Niro, Jane Rosenthal, and Craig Hatkoff in 2001, brings artists and diverse audiences together to celebrate storytelling in all its forms. With strong roots in film, Tribeca is synonymous with creative expression and entertainment. The esteemed jury selection of Adipurush to make its World Premiere is a tremendous honor and opportunity to propel Indian cinema to the world stage. Touted as a visual feast, Adipurush will be showcased in the 3D format as a "Midnight Offering" at the festival.
Talking about this fantastic feat, director Om Raut shares, "Adipurush is not a film, it is an emotion, a sentiment! It is our vision of a story that resonates with the very spirit of India. When I learnt that Adipurush has been selected by the esteemed jury of one of the prestigious film festivals in the world that I always aspired to be at as a student! This very premiere at Tribeca Festival is truly surreal for me as well as the entire team, as we get to showcase a story at the global stage that has been very ingrained in our culture! We are truly thrilled and excited to see audiences reaction at the world premiere."
Bhushan Kumar from T-series also says, "It is indeed a moment of pride for all of us to take Indian cinema global! The Tribeca Festival is one of the world's most acclaimed platforms, and for our movie, which is not only a labour of love but a depiction of Indian history – to be showcased here is humbling, exciting, and overwhelming. Adipurush is going to be a visual treat for all, and I am sure it will have a mesmerising effect on the global audience."
Actor Prabhas adds, "I am honored that Adipurush will have its World Premiere At The Tribeca Festival New York. It's an absolute privilege to be a part of a project that mirrors the ethos of our nation. To see our Indian films, especially one that is so close to me, Adipurush, reach the global stage makes me extremely proud not only as an actor but as an Indian too. I look forward to seeing the audience response at Tribeca."