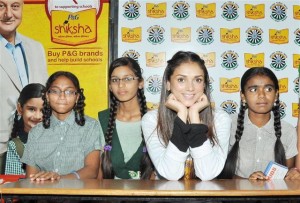 Actress Aditi Rao Hydari was recently spotted at the P&G Shiksha School in Hyderabad to support a cause close to her heart. P&G Shiksha is an initiative by P&G India's flagship CSR program, launched in 2004. Since then, it has seen immense growth and the backing of many well-known celebrities. Aditi is strong in her belief of educating the girl child and giving them opportunities to succeed.
She has been a constant support for the program since its inception, and believes that the right to education is of utmost importance. Aditi mingled with the girls and relived her favorite childhood memories.
Speaking about the cause Aditi said, "I have been supporting P&G Shiksha over the years by choosing P&G products and therefore, today I'm extremely delighted to visit the P&G Shiksha School and see the difference being made in the lives of the children. Education is a cause I deeply care about and when I was growing up; education enabled me to follow my dreams and aspirations. All the success that I have achieved in my career, I owe it to my education. I was born in Hyderabad and I'm happy to see more and more girls being educated in our state so that they have a chance to fulfill their dreams."
About the Initiative:
About P&G Shiksha: Launched in 2004, P&G India's flagship CSR program P&G Shiksha has grown immensely, with the help of strong support from consumers. Till date, P&G Shiksha has built and supported over 330 schools that will impact the lives of over 6,00,000 children by helping them gain apcess to education. P&G in association with NGO partners like Round Table India (RTI), Save the Children (STC) and many more is working towards building new schools, providing critical, infrastructural amenities at existing schools and reviving non-operational government schools.