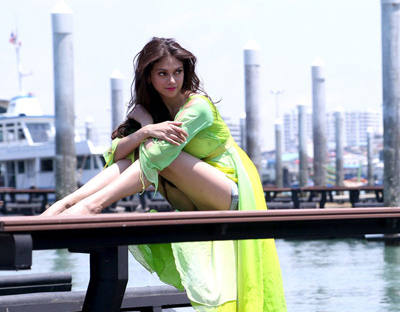 Though still relatively knew to the Hindi film space, actress Aditi Rao Hydari certainly has made an impression. She made her Hindi film debut in Delhi 6, then starred in Yeh Saali Zindagi, appeared in Rockstar, starred with Ali Zafar in the romantic London Paris New York, and most recently was seen as the lead in thriller Murder 3. It's quite the eclectic and cool mix of genres and roles, and with each performance she has been given great reviews. Next up is the masala film, Akshay Kumar's Boss, where she plays, as she says, a fun, typical Hindi movie heroine. Check out what she told us in our really fun and fab chat about all things Boss!
Tell us why you decided to take this role in this film.
I think as someone who is not really part of the industry, one takes baby steps towards building up a body of work. I think I started off with more content driven stuff. I just started out that way. I like that kind of cinema. I have fun doing it. So when this came my way…I have actually always wanted to do a large-scale masala movie, because that is the kind of film that reaches out to the larger demographic of this country. That is the kind of film that is watched in small town – everybody in the country goes out to watch a film like that. I think this is part of an actors' journey to balance these two kinds of cinema and I think if I can do it then why not! I think after Murder 3, which was an intense dramatic thriller and which is quite a different film from Boss. So it was a good thing to set off Murder 3 with Boss.
Boss is fun, it's light-hearted. It is the kind of film we grew up watching. And the kind of film that any girl that wants to be a heroine and an actress, stands in front of the mirror and imitates the dances and songs, that comes from films like these. I am doing it because it is just fun!
Tell us about your character in the film.
Because like I said it is a typical Hindi movie I am not going to have something to deep to tell you but that is also fun! (Laughs) I play this college girl who is basically a fun-loving, happy girl who falls in love with this guy played by Shiv, who is Boss' younger brother. And because of this love that sort of blossoms, a lot of twists and turns occur in the plot. This is how the plot moves forward because these two fall in love, then Boss comes in and lots of things happen because of that love. Obviously I can't tell you too much about the plot but it is a remake of a south Indian film (Pokkiri Raja). It is the kind of film that is very male dominated. For me, apart from being spoiled on the set and being treated like a princess…which is VERY nice (laughs), you also get your own little space in the film where you get to bring the romance and the freshness into the film which is a very important ingredient to a masala film. So very simply, basically that is what it is; it is a very typical Hindi movie with a typical Hindi movie heroine.
I got to do a beautiful love song, which is a remake of a lovely song. It is a very beautifully shot song. I had fun doing it. When you are doing a song you get to hear the song on loop, which is also an added bonus (Laughs).
There was this bikini sequence in the film that has gone on to be quite talked about. Which I guess that is the reason why it is in the film. When I was doing it I didn't quite think about it that way. Maybe I am naive or I don't know what…Now that it has gone that way, I think that is why they put it in. It is fine as long as people are saying good things about it and as long as it is looking beautiful – it is good! It is there for a reason and I think it has been done well. That is all I wanted that it should be done well.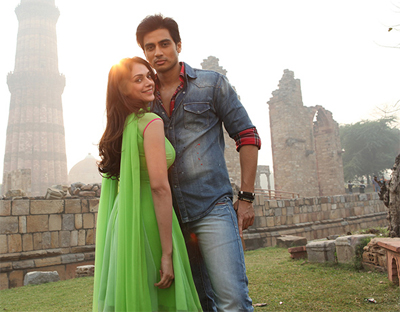 What was it like to work with Shiv Pandit?
I think with people of our generation we all have similar kind of attitude towards our work. We all have similar angst, similar struggles, and similar goals that we want to achieve. We all find ourselves in similar situations, especially for people like us who come from the outside. I think when you meet on set, even if you don't know each other at all and though you have heard of the other person, there is an instant bond and it is nice because then you grow together in the industry. I have worked with a lot of people like that who are in a similar situation I am in – maybe 2 films up or down. I think it is nice. It is fun to work like that because I think the Hindi film industry does have a lot of new talented actors who are creating spaces for themselves and doing some good work. It is nice to create a good pair with people like that which then can be repeated. You know there was a point where people were working with very, very established stars but now I think it is quite exciting that there are a lot of people like me. It is fun to be in that situation and working with people who are creating new things, fresh pairs and fresh movies.
I bet it is exciting to have that give and take…
Exactly! And I think with somebody like Shiv what I find fun about him is apart from him being a good actor, I have seen his work in Shaitan and he looks good on camera, is that he has a great self-deprecating humor that is very entertaining. It is fun to be laughing as you work. Boss is that kind of film where you have fun while you are working because it is that light-hearted masala fun film. It is good to have some interesting and fun times on set.
And the fact of the matter was that because I was working for the bikini, behind the scenes my five weeks of torture was going on but on set I was having fun. (Laughs) It was a good respite!
Then, of course, there is Mr. Akshay Kumar. So what is like to be on set with him, watch him work and then to work with him?
Again, he has come from a place where he has not been a part of the industry when he started out, he did not know anybody and he has created a space for himself and a very successful space for himself. What I really admire about him is that he is very hardworking and disciplined behind the scenes. In front of the camera and on set he is a lot of fun! That is kind of the work ethic that he believes in. I think that is fun to watch and it is fun to be a part of. Also as a dancer, that is something that is kind of ingrained in me; that all the work behind the scenes has to be so strong so that when you are performing you can just flow and open your heart out and literally give, with out any kind of self consciousness or inhibitions. That only happens when your work behind the scenes is hard. Watching senior actors who have this reputation of working like that, it gives you encouragement to continue to keep working like that. Mr. Kumar is encouraging. He's fun. He is superb at the kind of stuff that he does, especially in Boss and like in Welcome and Singh Is Kingg, where he is doing a lot of action and then he does something like he will punch someone in the face and then he will do something really funny after. That is always fun to watch. I enjoyed watching him do that kind of stuff in this kind of cinema.
Apart from Mr. Akshay Kumar there were also a lot of other really amazing actors, Danny Denzongpa, Mithun Chakraborty and Ronit Roy all really, really fabulous actors who are big stars. It was just fun being around them and like I said being spoilt. (Laughs) That is always a plus!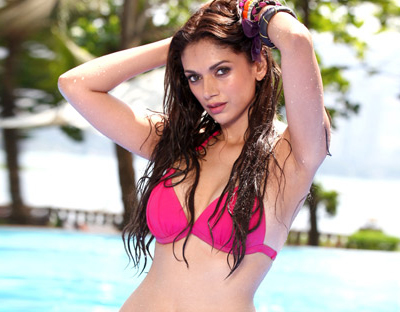 What about director Anthony D'Souza?
What I really like about Tony is that he is a really gentle, encouraging person who is always there for you. This was the first time I was doing a masala movie so I wasn't quite sure where to pitch it but he said, 'Don't you worry, you just do what you do'! That was really nice to hear because I thought I would have maybe sort of over play it. I thought I would have to completely change tracks and play it a different way and completely play to the gallery, but I think he wanted that kind of natural, innocent sensuality to play out. I was comfortable doing that and he was quite encouraging with it. He also has a really nice way of bonding with his actors. He will call you every evening and give you feedback. That was very nice and quite helpful especially because I was in a very different kind of film. That was really nice for me. I am very fond of him.
He and the cinematographer Laxman Utekar make a really good team. They are technically very sound. It is a script of a remake of a South Indian film and the scriptwriters are Sajid and Farhad who have made some of the biggest films in the country. It was a really good team that they put together and it was fun working with them.
What do you think audiences are going to love about the film?
Boss is a fun family entertainer. There is something for everybody in the film. There's action, there's masti, there's drama, there's a whole family angle, there's romance, there's the bikini scene (laughs). There's enough to clap at, there's enough to whistle at, there's enough to cry at, there's enough to dance in the aisles at, there is some great music… it is a great mix with all the things that make a great Hindi entertainer! For the larger demographic in the country, who just want to go into the cinema and forget about work and forget about what is happening in their lives, it is just a good film to have fun with. And I hope that it goes and does that. I can go blue in the face saying things but the audience has to come see it!
You seem to be very active on Twitter; what does it mean to you to connect with your fans?
You know, actually I Love It! I love it. And you know what, I never wanted to be on Twitter. I stayed away from it. When I was shooting London Paris New York, Ali Zafar kept telling me people keep asking for you on Twitter, why don't you join. And I said no, no, no, no! I find it to in your face. I wasn't comfortable with it. But then during the time of Murder 3, you know Murder 3 is the girl's story, it is Roshni's story and suddenly during the promotions and in the press they picked up on that and I started being the front-runner of the publicity campaign. Bhatt sir said it is a good time to get on Twitter because a lot of people are asking for you. Bhatt sir basically bulldozed me to getting on Twitter. At the beginning I was a little sort of tentative. I wasn't quite comfortable with how to handle it. Now I really enjoy it and it means so much. For me, I never take any message, any compliment I get for granted. It really means a lot to me. It is so lovely to be able to reply back to people who reach out to you. I try my best to answer to everyone. Sometimes people sulk and I feel very bad but I am human. I am working 48 hours with 2 hours of sleep so I can't answer everything all the time. But I do try my best. It is out of love. I enjoy it and I hope it keeps getting better. As an actor that is what one wants, at least that is what I want to be: I want to do credible work, I want to do memorable work and I want love and I want claps and I want whistles and I want much more appreciation! That is why I am there, it is a very massy medium and that is what cinema is.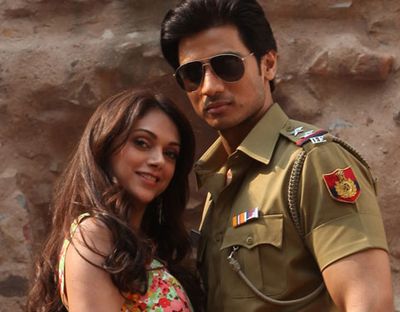 What's next for you?
I do want to be able to do content with masala films. I am trying…it is always baby steps. What's next is always a CIA secret because that is how our Hindi film industry works. Everything is a big, big secret. Honestly I prefer speaking about something when I have actually started working on it because one never knows what happens with a film, they can get pushed back, sometimes the cast changes. So I will wait until I have started working on them but I do have a couple of scripts I am looking forward too! There are directors that I have really wanted to work with. I just hope and pray I can continue to work hard.
I think, for me, as an actress, the directors I work with are very important because directors tell a story; they create the characters on celluloid. Actors, we just breathe life into the characters, we are just the mediums. So it very important for me to work with the right people. That is what I am looking forward to doing, working with directors who I respect and admire. Like I said, whether it is a commercial film, whether it is a big budget, whether it is a small budget… all that I think doesn't matter. It is about telling a good story and if you are part of a product that reaches out to people and touches people in some way and if people can take you home with them that is what it is all about. That is what it is, audiences have to want pieces of you and keep those pieces with them and I think that is, for me, what it is being an actor. It is to give to people and to live in their hearts and minds. I hope that I can do that.
Be sure to check out our interviews with Ronit Roy, Shiv Pandit plus a cool Q and A with Akshay Kumar! Boss is in theaters today!