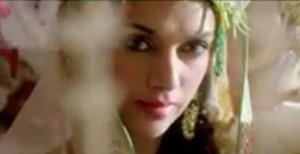 While most of the industry takes a break during the yearend holidays, not everyone falls within that roster – one such being the classic beauty Aditi Rao Hydari. It is believed that Aditi will be spending the entire holiday season on sets of her films all of which are scheduled for a 2015 release.
"Aditi has quite an eclectic and anticipated line up to her credit: Wazir with Mr Bachchan and Farhan Akhtar, Aur Devdas by Sudhir Mishra, Fitoor by Abhishek Kapoor, The Legend of Michael Mishra by Manish Jha produced by Eyecandy Films and Guddu Rangeela by Subhash Kapoor. She has been shuttling schedules of her film shoots from Kashmir to Lucknow to Delhi to Mumbai to ensure she completes all within the stipulated time. Also, she has a personal belief of ensuring that she ends a year and starts the next on a working note – so that the work continues with as much vim and vigor in the year ahead," says an inside source.
Well looks like the young lass believes in ensuring she gives her work her all. Good going girl!