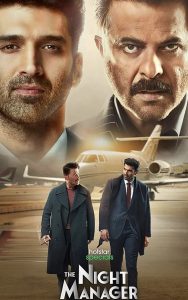 The Night Manager (4 Episodes, Disney+Hotstar)
Directed by Sandeep Modi, Priyanka Ghose
It is immaterial whether you are familiar with John Le Carre's espionage novel or not. As a stand-alone piece of kitschy art The Night Manager works just fine. The writers Sridhar Raghavan and Sandeep Modi make just the right switches and shifts of mood and location from the original to the remake, rendering the remake so distinct that even those who enjoyed the original would love the desi avatar of The Night Manager.
It is easy to miss out on the nuances that have gone into creating this self-contained world of intrigue and suspense. Outwardly The Night Manager is a routine thriller about an entrepreneur tycoon Shailendra Rungta moonlighting as an arms dealer .
Anil Kapoor plays Rungta with the kind of archaic bland swag that went out of style with Richard Gere in Pretty Woman. He is shown to be a sinister global criminal, a passionate lover to a mistress(Sobhita Dhulipala, doing the femme fatale for the umpteenth time) and caring son to a little boy who looks young enough to be Rungta's grandson.
Aditya Roy Kapoor who plays the eponymous role of the night manager Shaan Sengupta, befriends all of the three above-mentioned, though winning Rungta's confidence takes time. The series has plenty of it. The makers inform us that they have just completed four episodes and will continue the story in July.
Although I am not holding my breath, the storytelling is clenched, dreamy and steamy enough to see me to the next segment largely because Aditya Roy Kapoor creates the kind of troubled secretive hero that that nudges Bachchan's Angry Young Man persona. And yet he is his own person as the haunted hotelier who can't sleep because of his past, Kapoor manages to create a hero vividly unravelling in from of our eyes.
It is a treat to watch Kapoor evolve into such an effective actor. Anil Kapoor as the antagonist looks bored rather than mysterious. I don't think he came to grips with his character Rungta's dual life and how Rungta succeeds in merging the two contrary personalities.
The supporting cast, especially Saswata Chatterjee , Joy Sengupta and Tillotama Shome are first-rate. The girl who plays the Indian childbride in Bangladesh in the first episode makes a very strong impact , more for her role than her character. There is a certain rhythm and flow in the way Shaan takes the child bride into his care.
And yes, Imirtis will never taste the same again.