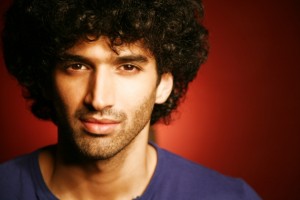 Aditya Roy Kapur is known for his stylish Afro look. But for his role in the film Aashiqui 2 the 26-year old has to let go of his curls as they are looking for the perfect hairstyle.
For the perfect look, Kapur has tried over a hundred wigs, but they still haven't found the perfect look. "We're still in the process of finalizing the look. In spite of trying some 112 odd hairstyles, we've still not found the perfect one," says Aditya.
Kapur often gets questions about his hair. You have to admit, his hair is quite unbelievable, but it's 100% natural. "This is my natural hair and it has always been like this. In fact, if my eldest brother (Siddharth) grows his hair, it will end up looking like mine. Only Kunaal (Roy Kapur) has straight hair."
The actor was seen in films like Guzaarish and London Dreams. While lots of people get turned down for roles because of their voice, big nose or something else, Kapur's hair was never a problem that ever cost him a role. "Not to my knowledge at least. I know that everyone has a point of view, but it's fine. Some may like my look and some may not. But as actors, we've got to keep experimenting. So, tomorrow, if for a certain film I'm asked to change my look, I will. But so far, it has all worked well."
Now that we all are used to seeing him on screen with this stylish hairdo, we are quite curious to know what kind of wig will give him the perfect look for Aashiqui 2. We will reveal the first look as soon as it comes out.