On the occasion of International Rose Day last week (Last Sunday), Aditya Roy Kapur decided  to surprise his co-star, Katrina Kaif, with an extraordinary gift – a truckload of roses. He literally sent a truck full of bright and gorgeous roses to his co-star. Aditya definitely caught Katrina's attention by gifting her about one lakh roses. He drove the truck that was full of the flowers himself, and presented them to her at the scenic Jai Mahal Palace in Jaipur (Rajasthan).  As Rose Day is celebrated across the country exactly one week before Valentine's Day, Aditya thought it would be the perfect way to make Katrina feel special. The idea came to Aditya a couple of days back, and he immediately started making the arrangements for it. Katrina was absolutely surprised and deeply touched by the gesture, and thanked Aditya by giving him a big hug.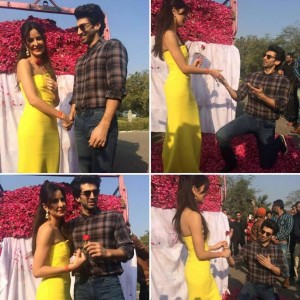 An adaptation of Charles Dickens' classic novel Great Expectations, Fitoor tells the story of young Kashmiri boy Noor, his muse Firdaus and a mercurial Begum, through love lost and realised over the course of two generations. Thirteen-year-old Noor, an impressionable shikara boy living by the piers of Kashmir's Dal Lake, is lured into the world of the Begum – the wealthiest woman in town. 
Young Noor falls in love with the Begum's daughter, Firdaus – a beautiful child who has been raised to break hearts. Suffering from a broken heart herself, the Begum finds her mark in Noor. Noor begins to obsess over Firdaus, someone who belongs to a world completely different from his. Seasons change and Noor leaves his hometown to move to the city of Delhi to build his career as an artist. He strives to be accepted into the sophisticated social circles that Firdaus is a part of in a quest to win her love, while the Begum plots retribution on their young and innocent love.
Fitoor is in cinemas through UTV Motion Pictures.