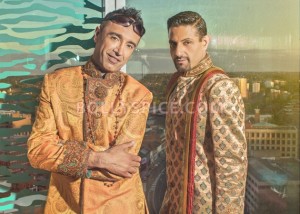 The Bollytastic presenters Raj and Pablo, from the Love Bollywood show on the BBC Asian Network recently caught up with singer Adnan Sami, who is all set to celebrate his 39th Birthday this weekend.
To celebrate the singer's birthday the Love Bollywood show will be airing an exclusive interview in two parts on the BBC Asian Network from 11am on Sunday 12th August 2012.
Adnan Sami spoke to Raj and Pablo about loosing 145 kilos, working with Amitabh Bachchan and considering a career in acting.
R&P: Last time we spoke to you we had a good hour, we spoke about a lot. What has changed since then, how have you been and how is life?
Alright, which part of a 145 kilos that I lost did you miss? Yeah I met you guys many kilos ago. A lot has changed, first of all in my health. It has been wonderful to do a U-turn on my health and I feel great for it and the energy level is insane, it's wonderful I feel great. I was very seriously fat.
Raj: How did you lose all that?
It was a lot of hard work, I went on very strict diets and some people turned around and said 'iss ne lipo-suction ki hai' I mean do you realise the kind of weight I had?! If I decided to have lipo suction I need a vacuum cleaner! I mean lipo suction are meant for those people who are basically ok but need a bit of fine tuning, not meant for people who are morbidly obese which I was. So there were all kinds of stories but no it was hard work, high protein diet and will power.
Pablo: How has that changed your personality? Or has it?
Actually, I don't think it has in any way, I just feel more energetic but I'm still pretty much as mad as I was before.
Raj: Where did your will power come from?
I had a check up and the doctor gave me a very, very scary scenario that if I didn't do it now they wouldn't be surprised if….they gave me 6 months and that was pretty much an alarm so I decided to do it!
Pablo: In terms of where you started off from, when did it all change for you?
I think it was my debut album Kabhi To Nazar Milao, which started a kind of chain reaction really, that's the one that gave me my break and was a milestone
Raj: We had the privilege of speaking to Asha ji a couple of months ago who described that song as one of her definitive's, how did that all come about?
Asha Ji is like a maternal figure for me, I met her for the first time when I was 10 years old, when she heard my music she said if I work hard one day I may turn out to be a music composer or director. Then when I composed and played it to her, she heard it and immediately fell in love with it and said she'd love to sing the song. For her to sing the song was an ultimate dream for me and I'm extremely grateful to her for giving me this wonderful gift. I always cherish an opportunity to work with her because she is an institution and an ultimate delight for a music composer. You compose one line and tune and she'll give you twenty choices or variations back about how you want it sung. I'd love to work with her on another album.
Pablo: It is not just Asha ji you've worked with, there are many other big names like Amitabh ji, how did that happen?
Well like everyone else I grew up watching him and being completely in awe of him and it was always a dream of mine to work with him and it was lucky for me that he had a kind of interest in singing, which he had done in some films in the past. So I knew that he had that inclination, when this song came in 'Kabhi Nahi.' I just decided to take a chance and call him up, though I didn't tell him on the phone why I wanted to see him. I met up with him, did my usual thing, which was to play him the music and wait for a good reaction and THEN depending on their reaction I will make my next move! So, I played him the track, he really liked it, and when I got that nod of appreciation then I felt confident and sort of said it would be amazing and a huge honour if you would agree to sing it and he just laughed and said he wasn't a singer! I told him to take the track away and think about it, he got back to me after a few days and said ok I'll sing it and give it a shot! And that's how the song came about, one of the most amazing experiences of learning from a living legend.
Raj: Rumour has it he's trying to get his dad's poetry into song, would you do that for him?
Oh it would be an absolute privilege to do that, I mean his father is an amazing accomplished poet. It would be an honour.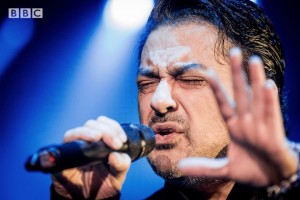 Pablo: There have been many female stars in your videos, what's the process there?
Well I mean the thing is when we get onto the storyboard of the video in question, we obviously have a story line and define each character and depending on what mood the video is…then we decide like ok fine – for example Tera Chehra was a very intense song. It required a performance of someone with intensity and who could emote intensity in the kind of manner we were looking for. I mean Rani is an amazing actress so the choice of her as an actress was absolutely number 1, we decide it on the various actresses according to whatever the demand of the actress was.
Raj: What' we've noticed is that you're not conquering the South Indian film industry, you're doing Tamil and Telagu films… how did that all come about?
That for me is huge, I feel a huge sense of achievement and I'm extremely grateful to God for this because Tamil or Telagu are not my mother tongues, I don't speak them but the point is that all languages are beautiful and the most important challenge for me was not only to sing them but to ensure that my pronunciation was spot on. It would take me 40 minutes or half an hour for a Hindi or Urdu song because I'm comfortable with the language and my pronunciation is fine. With a Tamil, or Telagu or Malayalam song, because I wanted to perfect my pronunciation it would sometimes take me 3 hours, 4 hours 2 hours because I would have an actual coach sitting there. I would tell them if you want to make me sing this 50 times to get the pronunciation right I'll do it, I just wanted to be right and I didn't want anybody to turn around and feel offended because I have a tremendous amount of respect for language and I want them to know its very dear to me so I've put in a lot of effort into that but it's been really fun!
Raj: What comes first for you the lyrics or the music?
You know this is something that is extremely unpredictable, sometimes the lyrics come, and sometimes just a simple word comes! I mean when I was composing Barsaat, the only words I had was 'bheege bheege' I sat down and thought I know what I want but I also know that the first two words have to be 'bheege bheege' and that was it! Sometimes the music comes first so there's really no formula.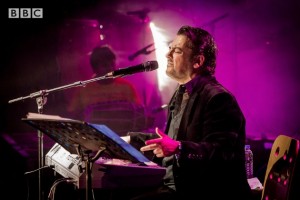 Pablo: When you're singing, and in order to sing and emote at the level you do, do you have to have suffered a bit in life?
I don't have to think about it because the point is, it kind of happened by default. I mean I never got the chance to think and say 'Oh God I need to be in a slightly sad frame of mind, where do I draw this experience from?' I've always had a lot of experience which I can always draw from.
Pablo: So when was the darkest part for you?
I'm redefining 'dark' by the moment! It's like when you're in first grade and you have exams you're like oh my god this is the worst time please mum I've got exams don't give me any issues right now, and then when you get to the tenth grade then you're like 'what on earth was I making a fuss about' the first grade was a day at the beach! So the point is your threshold increases, I don't want to sound dark or anything but there's no such thing as a smooth sail for anybody, they all go through ups and downs, it depends how you take it. You can wallow in self-pity or develop a sense of humour and move on, because this is a part of life, and it only makes you a better person, slightly more aware and more intelligent hopefully!
Pablo: Is singing a process of healing then?
Erm …healing and venting.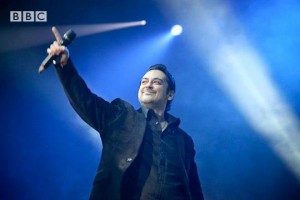 Pablo: At the moment there is a trend of singers and composers acting. Have you been tempted, do you want to be a hero in a film?
The thing is that I have had offers to do films and we are looking at certain scripts but I don't want to play a musician because that's too cliché, but I don't have that drive, that oh I've got to do a film, absolutely not but if there's something that really excites me then I would do it otherwise I'm very happy in the space that I am.
Raj: When will you be coming back to Bollywood for Hindi movies?
I think this year we're going to be doing some stuff…so I think you'll be hearing some new stuff and of course I have my album coming out
Pablo: A message for all your fans.
Please buy my records (They all laugh) was that a shameless plug in or what? (They laugh) no, no …seriously I just want to thank everyone for the love because us artists we are NOTHING without our audience and the fact is that we are placed in the pedestal that we are on by the audience otherwise there are so many people out there who are talented but if God decides to put his hand on you and say 'right YOU' are going to stand out. Whoever gets that in whichever field you should always count your blessings and be grateful.
For your weekend dosage of all things Bollywood tune in to the Love Bollywood show every weekend morning, 9am – 12pm, on the BBC Asian Network.