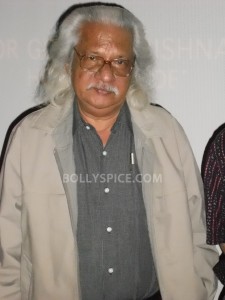 Legendary Indian film and documentary maker Adoor Gopalakrishnan attended an exclusive master-class at the British Film Institute (BFI) as part of this year's London Indian Film Festival. Hosted by Derek Malcolm, the event reflected on the life and works of the great Malayalam director and screenwriter, who is a multiple National Award winner, a Dadasaheb Phalke awardee, as well as a recipient of the Padma Vibushan; India's second highest civilian honour. Adoor is known for travelling to London on a rare basis, which made this event even more special for his fans and Indian film lovers alike.
Born in the South Indian city of Kerala in 1941, Adoor initially did not want to enter the Indian film industry and was working as a statistical investigator for the Government of India. He eventually embraced his passion for cinema and went onto study Screenplay Writing and Advanced Film Direction at the Film Institute of India in Pune. During his illustrious career, Adoor wrote and directed 11 films and 30 shorts and documentaries. He made his debut with Swayamvaram (One's Own Choice, 1972), which went onto win four National Awards. However, it was with Elippathayam (Rat Trap, 1982), that Adoor won worldwide acclaim and he became the second Indian director after Satyajit Ray to receive the BFI's Sutherland Trophy for this particular film.
During the event, Adoor revealed his unique style of filmmaking, which took a number of audience members by surprise. "I do not give my actors the script. They are given the dialogues and action while rehearsing and I tell them what to say and how to perform." Adoor also said that he feels to give his actors the script in advance can be 'dangerous' as they may end up interpreting their character in a different light, in contrast to the director.
In addition, Adoor spoke about Bengali filmmaker Satyajit Ray, whom he considers to be his idol. "Ray is the product of a period, of a particular upbringing, of a particular legacy that he inherited from figures such as Tagore. He is the most accomplished artist to work in cinema in India. In fact, although we are celebrating 100 years of Indian Cinema, we should start celebrating it from 1955 when Ray made his first film (Pather Panchali). There were some interesting films being made before, but the real accomplished filmmaker emerged through the entry of Ray."
Adoor also spoke about the controversial Indian Censor Board and how he disapproves of the compulsory 'smoking is injurious to health' notices which is used in films if an actor/actress is smoking. "There is so much cruelty shown in films that nobody stops them. Smoking is harmful, yet killing or rape is not harmful at all."
BollySpice were present at this special event and we managed ask a question to Adoor regarding Bollywood actors and whether or not they could contribute in popularising regional cinema in India and abroad. Here is what he had to say. "We cannot say that Bollywood is central to our cinema in Malayalam. Because we make equally bad films (audience laughs). Whatever film you watch, whether it's in Punjabi, Tamil or Telugu etc, they are all doing the same dances, same moves etc. Maybe they all look the same, but there is hardly anything that distinguishes one from the other."
Stay tuned to BollySpice as we will be bringing you more exclusive coverage from the London Indian Film Festival during the course of this week!