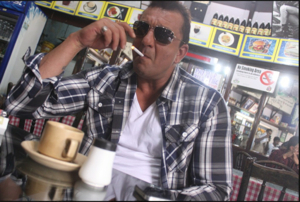 Sanjay Dutt has always loved role-switching between good and bad characters and different genres. So after playing the villain Kancha Cheena in Karan Johar's Agneepath, he'll change once again to the other side of the law and play not just one, but two cops: one in Ram Gopal Varma's Department and one in Anand Kumar's Zila Ghaziabad.
Department is a movie about the relationship between underworld organizations and police departments, or as RGV says, "Department is about the personal lives of the cops, how their family equation and social lives get affected by their job. My film Company was about the politics in the underworld. Department is about the politics in the police department."
In this department, Sanju plays Mahadev Bhosale, a sincere cop who fights the underworld mafia and who is feared by many criminals more because of his mind rather than his gun. His role is said to be based on the real-life character of encounter specialist Pradeep Sharma, but RGV quashes rumours about Department being a film about encounter killings. Neither will he show Sanju in uniform or in "that stylish cool-dude way" in Department. "He is playing a very realistic character."
Even Sanju's other cop role he's shooting for (parallel with Department) is based on a real-life character. Anand Kumar's Zila Ghaziabad is a dramatic thriller about the mafia in Ghaziabad, with Sanju playing a cop resembling the late Thakur Pritam Singh, a famous cop called The Badshah of Bulandshahr from the West UP town of Bulandshahr, who was notorious for his unorthodox way of dealing with criminals. As the producer Vinod Bachchan explains, "The film is based on Thakur Pritam Singh but the story has been modified suitably to make it interesting for the 70mm. I too am from UP and belong to the Etah District of the state and for us, Thakur sa'ab was a hero. He was a man of courage and he had his inimitable style, which is still emulated by people of the area. When writer Vinay Sharma approached me with the script, I was prompted to make this film."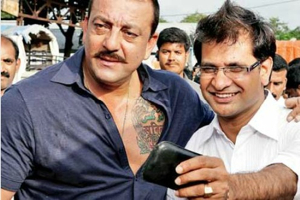 So even though he has played cops many times before, this time it's different for Sanju, and like in Shootout At Lokhandwala where he met and interacted with Aftab Ahmed Khan, the man his role was based upon, he did background research also for Department and Zila Ghaziabad. He asked for pictures, documents, articles, anecdotes to learn as much about Pradeep Sharma and Thakur Pritam Singh as possible – very astonishing for this actor who usually is not known for method acting but is, as Raju Hirani once called it, "completely an instinctive actor". But in this case, Sanju doesn't want to take chances. He wants to play these two cops as differently as possible – and he wants them to look authentic.
He even asked both filmmakers to show him rushes of the film to check whether he achieved his goal. "Sanjay Dutt knows Department is a very special film for him. I've always believed he has one of the strongest screen presence," says RGV, while Vinod Bachchan confirms, "Yes, Dutt Saab asked to see his look and presence. So I made a special trailer of the film and took it to him."
Way to go, Sanju!