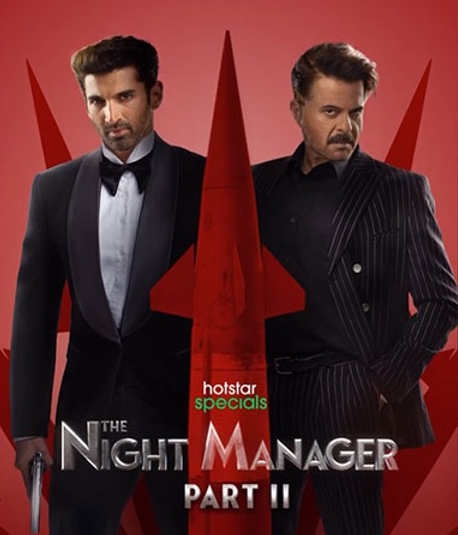 The Night Manager (Disney+ Hotstar)
Sometimes the biggest of strategists can go wrong. The minds that decided to split writer-director Sandeep Modi' s The Night Manger into two (messily amputated ) halves , have done the series a huge disservice.
Part 2, as it were, is a vegan's delight. All the meat was in Part 1, and even the principal performances were more accentuated by the predominant emotions in the first-half. The second-half is all about nemesis. And not of the subtle variety.
There are no new revelations for us to chew on. We know Aditya Roy Kapoor's Shaan Sengupta (is he Bengali, nothing in his attitude or conversations suggests any cultural grounding except a South Mumbai upbringing) has infiltrated the antagonist arms dealer Shelly Rungta's organization.
We saw in Part 1 that Shaan won the ruthless Rungta's trust by staging his son's kidnapping and rescue. Miraculously the little boy disappears in the second half.Maybe he got kidnapped again,this time for real, and we don't know about it.
Part 2, if we may call it that, is all about Shaan "rescuing" the captivating and captured Kaveri (that must have been the brief to Sobhita Dhulipala, to act captivating while being under Rungta's control) from Rungta's clutches.
Shaan and Kaveri keep fucking right under Rungta's nose. The only member of Rungta's team who can see through the game is the gay and volatile BJ, played with tremendous fidelity by Saswata Chatterjee (who should have played Shaan, and not only because he is Bengali).
There is an indefinable poignancy to Saswata's BJ. He is a man on the brink, waiting to topple off the edge, perhaps happily. The rest of the cast are all poseurs, charlatans lost in a masquerade (to borrow the title of a Carpenters' classic). Smoking-hot in their appearance the characters swear by the barrel of their guns, but have little to say about their illegitimate power except to bully those weaker than them.
On the other side there are Tillotama Shome and the criminally underutilized Joy Sengupta as RAW agents trying desperately to bring Rungta to book with Shaan's help.
It's all way too formulaic to do justice to the original novel by John Le Carre who was to espionage literature what Anil Kapoor can never be to method acting. His Rungta is more a child who wants every toy in the store than a seriously sinister enemy of the nation.
As for Aditya Roy Kapoor, he started with feeling . But by the end of it he just looked bored.
As for part 2 of The Night Manager, it is more 'John Le Carre on Jatta' than the intensely explorative series on the alliance of power and corruption that it had set out to be in Part 1.