Yash Raj Films, India's leading film production house, and 99Games, the country's leading developer and publisher of games, announced their continued association with a multi-year deal to exclusively publish "FAN: The Game" – the official game for YRF's Shah Rukh Khan starrer Fan!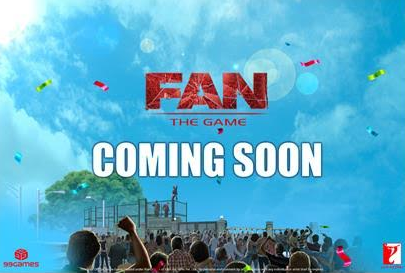 "FAN: The Game" revolves around the journey of an ardent fan and the challenges he encounters to meet the superstar he idolizes. It's a game about connections. Fans can connect with superstar Shah Rukh Khan at his residence Mannat, in a film studio, in a cinema hall or simply at a mall and prove that they are his Sabse Bada Fans!
About the association, Manan Mehta, Vice-President of Marketing and Merchandise at Yash Raj Films, said "We take our job of entertaining our audience very seriously. Whether it's a cinema screen or the mobile screen, the audience engagement matrix is our big priority. With 99Games and in particular with Rohith, we have realised that we have a common approach to business – audience centric. And as a natural progression of any good relationship, we are very thrilled to launch our product "FAN: The Game" in partnership with them. We believe that the gamers will really enjoy the gameplay that boasts of multiple levels and offers the opportunity to collect exciting gratifications."
"After the phenomenal success of Dhoom: 3 The Game, with incredible player reviews and feedback from over 20 million downloads, we are excited to work yet again with Yash Raj Films to build a stellar mobile game for YRF's Shah Rukh Khan starrer, FAN. The game will have avenues for players to connect with the superstar and a chance to come face-to-face with their idol in real life," said Rohith Bhat, CEO of 99Games. "As more and more consumers will be on the lookout for great local content, we will continue to push our boundaries to create high quality entertaining games. Working closely with YRF will be part of that strategy," he added.