Ali Zafar, if you know his name then you know his music. The pop singer is a huge star with many great songs and hits to his name. You also may know him as the actor and have seen him in his break out role in the funny Tere Bin Laden and continuing on with his success as an actor who got great reviews in the romantic Mere Brother Ki Dulhan. For London Paris New York, Ali combined his skills in both music and acting and not only stars in the film as the romantic lead, he also composed the soundtrack. In an interesting twist, he also sang the male vocals on the tracks and even had co-star Aditi Rao Hydari join in on two songs. Directed by Anu Menon, London Paris New York follows Nikhil and Lalitha, two twenty somethings as they meet in London, Paris and New York for a night each over eight years. It not only follows their love story but also the changes and the journeys these two characters make over this eight year period. We caught up with Ali this week and had a fabulous chat about the film, the journey his character takes, the music and what he thinks audiences will love about London Paris New York!
What was it about this film that made you want to take this role?
I think the script. The script was absolutely brilliant. As soon as we read the script we all got hooked on to it and we said that we want to do this film. There was a certain freshness to it. It was so breezy. It has all these great moments and so it really was the script and the content.
Your character goes through quite the change over the eight years. Can you tell us a little bit about him?
Yeah. The thing is, in the beginning of this film in London – he's an extrovert, he's full of life, he's even proud about the fact that he's young rich kid. This is the first time he's actually gone out of his house to explore the world. He's gone out to study filmmaking on his dad's money, which is where he meets this girl. They strike a connection and spend a day in London.
Then two years later they meet in Paris. Now in Paris, Nikhil is going through a tougher time in life. He's trying to sort himself out and a lot of things. He's not doing too well in his Uni and studies.
Then after six years they meet in New York. And now Nikhil has matured, he's in his late 20s so this is a new Nikhil and again the two meet. That's how the story is.
I bet it was interesting to play the three different parts of him over the time period.
Yes, exactly. That's what made it so interesting.
He is quite different from your other two roles, so how did you prepare to play this character?
I think there wasn't really a preparation. I like to do readings a lot before getting into a film. I like to read with actors and all. So for this, we did some readings to prepare for it. But I also like to be spontaneous on set and improvise and all of that stuff. The idea is it should not look like acting is acting you know?
Working with Aditi Rao Hydari
It was really nice working with her. She's done some brilliant work in the film. A lovely person to work with, for sure.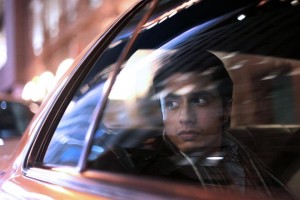 Seems like you guys really had a good connection… Was it nice to have someone you could really feed off of in the scenes?
Yes, especially since the film was only about these two people and there's no other character in the film. If these two people… if the chemistry is not there and if you are not getting that… Acting is reacting right? So if you are not getting that from the other actor then you know it will be tough to act. (Laughs) So I was glad Aditi was somebody who was a good co-star to work with.
Tell us about working with director Anu Menon.
Anu is a first timer. But strangely all my first three films are with first timers. My first two films were big success. And with this one I am aiming for a hat trick (Laughs). It was fun working with her. She knew what she wanted. She was very passionate about her film.
You also composed the music for the film. I read that you said that for each city you went with a different genre and different mode. What went into your feelings and vibes to go that direction?
Actually it was really interesting for me to do the music for this film because since I was already going through the psyche of the character so I knew the emotional graph that the character was going through. So I kind of knew what Nikhil was feeling at what time and I had given him that character graph I could relate to him. So in that context it really helped in making the film and the music. Whenever I would sit down to write the song automatically the thought of the character would come. So that became a unique process for me in that regard.
Favorite song?
I have a different favorite song everyday on different days. Today it is a song called 'Aaja'. It's a progressive rock track with sufi mixed in. So that song is a favorite and fits today I would say.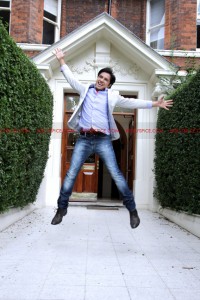 You had Aditi sing on the OST too. How did she do and how was she to work with in that aspect?
Very nice. You know the first time we heard Aditi, when I heard her, I thought she was good. In Hollywood the actors and actresses sing their own song mostly and in Bollywood somebody else sings for them. So I was like you know let's make something new. Let's do something which hasn't done before, which is that both the guy and the girl sing their own songs. So I'll make Aditi sing. I'll make her practice and I'll make her sound good. Not that she sounded bad at all, she's got a beautiful voice and all that. It was great fun making her sing.
How would you describe the film?
It's a very nice, fresh, breezy, coming of age, romantic love story. I mean you'll walk out of the theatre with a smile on your face and a lighter heart, you know. You'll feel lighter when you're walking out. It's in that kind of a space – the film.
You shot in London, Paris, and New York, tell us about that.
Every city had a different experience in itself. We stayed in London the longest. So we got to do a lot more stuff in London and it was also sunny and shiny, but my favorite town is New York. I loved the energy and the vibe in that place. I had a lot of fun in New York.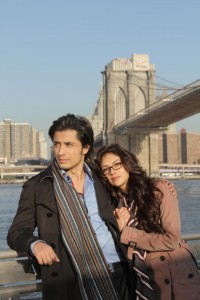 What do you think audiences are really going to relate to you and Aditi in this film?
They are very endearing – the characters. We've tried to make them as likeable as possible. And you know the connection, the chemistry we've tried to play them as real as possible. The conversation, the banter between the two, we've tried to really make sure it sounds very real and very believable. At the same time, it is just about these two people so it is the chemistry and we strike the right chemistry and the right chord, you know. We are very happy with it. Whoever has seen it so far has really liked it. We've got review today from the critic Taran Adarsh, who has given us almost 4 stars (Smile in his voice).
Do you think your singing and performing has helped you as an actor and in turn has being an actor changed the way you sing?
Definitely, definitely. I think they are all related to each other. Singing helps acting and acting helps singing. Like singing teaches you how to use your voice and all of that and I can use that in acting. There are many common elements, so yes definitely I really feel it does.
Do you have a message to your many fans out there?
We've made a movie, which we think is a lot of fun. If you feel like you want to have a good laugh in life and feel lighter than heavier then please go watch our film. We are very excited for the release of the film.
You can see Ali and Aditi Rao Hydari's journey when London Paris New York opens on March 2nd! Stay tuned because we will have an interview with Aditi coming up soon!