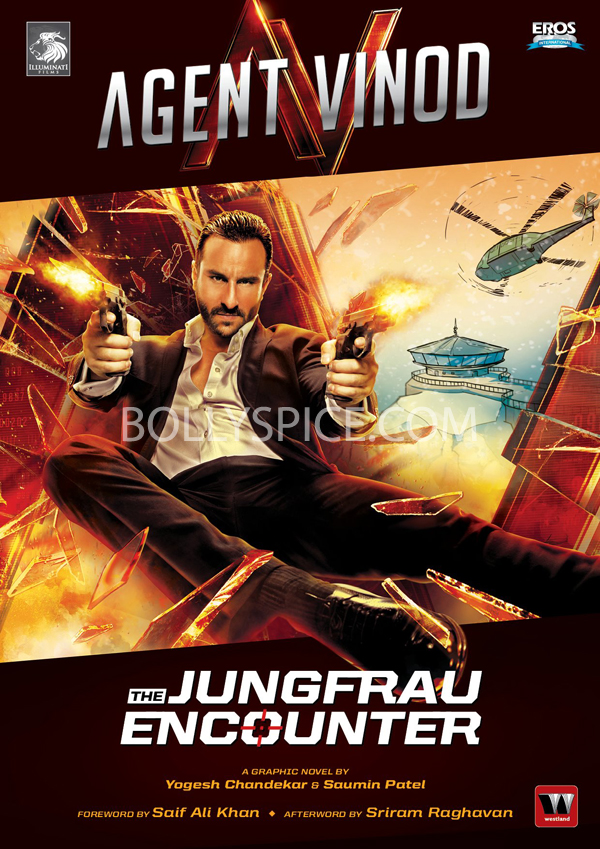 To give the audiences a taste of the action the creators of Agent Vinod the movie have come up with a graphic novel titled The Jungfrau Encounter. The novel written by Yogesh Chandekar with art by Saumin Patel, has its own storyline with twists and turns and in no way is an adaptation of the movie. Paul Vinay Kumar, publisher, Westland Ltd says, "The graphic novel (based on Agent Vinod) we are doing is called The Jungfrau Encounter and does not follow the film script. It talks about the introduction of Agent Vinod, so in a way, it is setting the tone of the character. We didn't want to have a straight adaptation of the film, that is why the name of the novel is different. We were given the script to understand the character and the mood of the film. Based on this, we have a new story that talks about the origin of the lead character."
The story is set at a restaurant high up in the Bernese Alps (in Jungfrau, Switzerland) where four mysterious strangers come together to get even with the one man responsible for their disgrace and humiliation. But almost nothing is as it seems, for their nemesis happens to be RAW's most notorious operative ever.
The Jungfrau Encounter is an all-new graphic novel set in the same fictional universe. It's your scorching introduction to the newest spy on the block; an ode to the greats who've thrilled us, entertained us and kept us guessing… and yet a different beast altogether.
This 90-page graphic novel is equal measures Agatha Christie, Hitchcock and Ian Fleming with a dash of Deighton, a little Ludlum and a hint of Le Carre shaken with vintage Ibn-E-Safi and generous swirls of 70s Bollywood with all its mischief, melodrama and madness (and of course you cannot leave out the dhishum-dhishum and dhichkyons). Not to mention the spectacular art that each page will carry.
The Jungfrau Encounter will be available for Rs295 and is in full-colour. It includes a dossier featuring developmental art, a mock-RAW assessment report and a look into its creative process.
The novel will release a few days prior to the release of the movie which is on 23rd March.