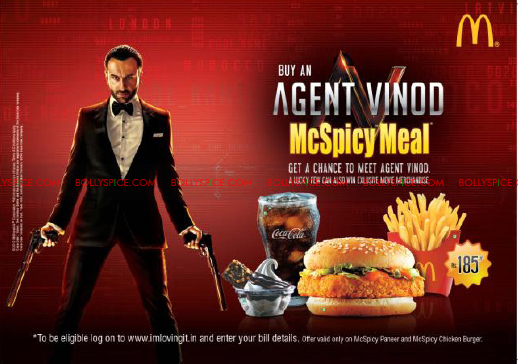 McDonald's partners with Agent Vinod in his next mission!
As the super spy sets off on his new assignment, McDonald's India (North & East) is all set to give the customers a chance to meet this ultimate hero from the movie Agent Vinod, played by the suave Saif Ali Khan.
Wondering how? All you need to do to win this once in a lifetime opportunity is just buy an Agent Vinod McSpicy Meal available across all McDonald's restaurants in North and East India beginning March 18 and you could be amongst the lucky ones to meet Agent Vinod himself. Not only that, Agent Vinod fans can also look forward to win exciting movie merchandise including Kareena's hot red dress or a shirt Saif wore. Yes, you read that right, for a few lucky winners there is all kinds of cool merchandise!
Not only is there the cool meal, when you reach the restaurants you will see the fab Agent Vinod tray mats and shop fronts! Micky D's, Maccas or Mac aka McDonalds is going all out slick with Agent Vinod!
Announcing the promotion, Rajesh Kumar Maini, General Manager – Corporate Communication at McDonald's India (North and East) said, "Agent Vinod is expected to be one of the biggest blockbuster this year and Saif Ali Khan as an actor has great fan following amongst the masses, which works for us as we are also a mass brand. I think this is win-win relationship between Illuminati Films and McDonald's."
Bottomline Media Pvt Ltd has played a pivotal role in bringing the brand, McDonald's and the movie makers together. Sharing details on the association, Tanaaz Bhatia, Managing Director, Bottomline Media Pvt Ltd says, "It is exciting to have a meal named after a movie. Am very ecstatic about the association and can't wait for it to be available in the stores."
Excited about associating with McDonald's India Saif Ali Khan said, "I am happy to be associated with McDonald's. Agent Vinod promises great fun and spicy entertainment the same values that drive McDonald's in whatever they do. Enjoy the Agent Vinod McSpicy meal, catch the movie on 23rd March!"
Agent Vinod, Saif Ali Khan and Dinesh Vijan's Illuminati films much awaited second production is set to release on 23rd March. So grab the Agent Vinod McSpicy Meal at McDonald's and get ready to meet the Nawab of Pataudi in his latest avatar.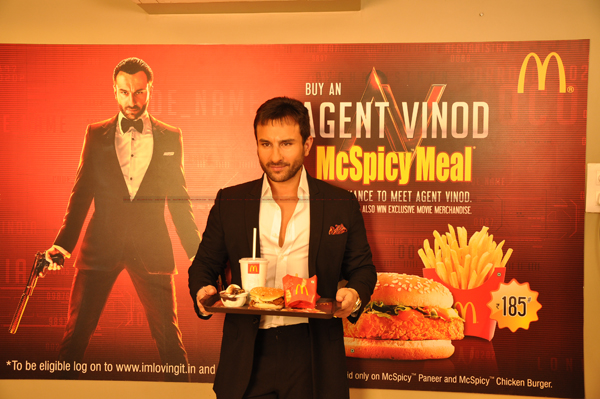 The merchandise window at mcdonalds with actual merchandise from the film…