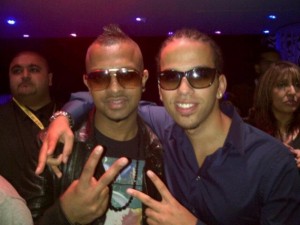 Bollyspice.com attended the AMA's nominations party last week in London and while at the press event we caught up with Asian singer Mumzy Stranger and British rapper Aggro Santos, who is best known for his hits Candy, featuring Kimberly Wyatt and Like U Like featuring Girls Aloud singer Kimberly Walsh.
Mumzy Stranger and Aggro Santos told us what the AMA's mean to them, a possible trip to Brazil and about working with each other.
Mumzy, you always attend the Asian Music Award functions and show your support. What do the AMA's mean to you?
I will always be here supporting it because the UK AMA's are they're supporting us. You know they haven't got any other reason to be here other than to support artists. It's great, I am really honored to have Aggro Santos here with me because it is nice to fuse markets, you know, not just turn up for your own thing. It's nice to introduce others in your thing and that is what we are doing at the moment and I think it is great man, and I will always support it.
What do you think of the Asian Music Scene Aggro?
I have always been a fan of the Asian music sounds and the rhythms and everything. Ever since I met Mumzy he has introduced me to a lot of that kind of stuff. My background is more South American, Brazilian, Samba and when I heard what he does I thought, you know, mixing it up. And he asked me to be on his single and it's a mad fusion that we know is going to kick off.
Mumzy Stranger: I am going to Brazil.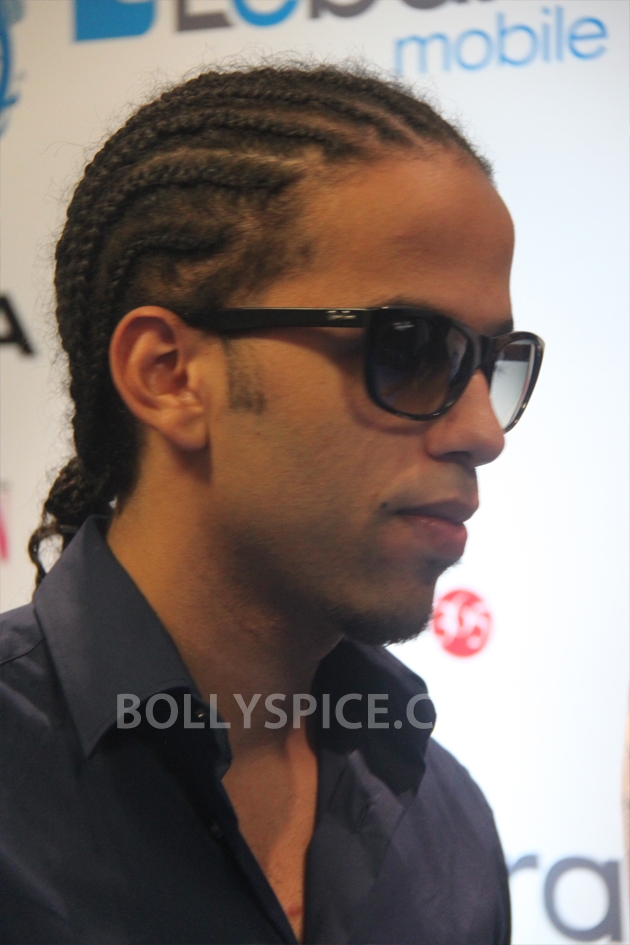 So when are you going to Brazil then?
Mumzy Stranger: Sometime, when Aggro takes me…(laughs)
Aggro Santos: You need to take me to your country as well bro.
Can you tell us more about your new collaboration?
Mumzy Stranger: The track, obviously I haven't released a single in 2 years, my last single was Fly with Me in 2010. I took a little break cause I just felt I needed to develop certain sounds, writing, go back to studio, drawing board. And I been away and I wrote a track called Dreaming. Not necessarily about a girl or a relationship or anything like that. Just a fact about you're dreaming, you're in reality and in today's world you can mix the two together. You live a reality, then you're dreaming but its all one. I just felt like writing a song that just go crazy, enjoy yourself and the best person for me was Aggro Santos. I thought Aggro jumping on a track like that can take it to another level and it has.
Aggro Santos: And I mean, this is like of the record as well, not as a friend of Mumzy's but as a fan of his work, I have heard other stuff that he is coming with and you lot are going to be blown away, I am not even going to say too much, just keep it quite and keep your ears pricked.
When is the new single out?
Mumzy Stranger: October 28th is when the single is coming out. Watch out for the video, watch out for tours, watch out for Aggro's mix tape, he has got brand new music coming through. I think he is going to be dropping stuff that you guys haven't even heard!
Aggro Santos: Yeah.
Has it got an Asian vibe to it?
Mumzy Stranger: Not at all, but it might have if he wants that. It's crazy isn't it?
Aggro Santos: We are just exploring new avenues. Obviously what I am most known for is the dance and uplifting stuff. I am travelling down the Asian/ fusion route and the acoustic route and all that.
How did the two of you meet?  
Aggro Santos: We met through the first, no not the first Asian Music but….
Mumzy Stranger: The 2010. We, basically, I done a big performance with a live band and sat down in the studio, and again I have been a fan of Aggro's music since Aggro came out, because he has a different sound he doesn't sound like a typical British MC, no disrespect to anyone. I enjoyed his sound so we brought a whole big performance together in 2010, for those who witnessed it, it was me, Aggro, Loick Essien, Griminal, Junior – the legend and that's where I met Aggro, he came down. That showed me a different side to Aggro, he doesn't just work with people who are bigger, or people who are on his level, he works with talent, and respect to that.

Do you have a message for your fans?
Mumzy Stranger: We got a tour coming up in November, the first, its called XOXO tour featuring Culture Shock from America, they're coming down. My lot are going to be there. Aggro is going to be jumping on here and there. It is going to be mental! My fans at the end of the day, they drive me to be where I am and it's nice to let them know that we are coming out to your cities, come and join us!
Aggro Santos: Yeah I mean just thank you for your continued support and just keep on supporting us because me and Mumzy have got a lot of stuff coming out and we think everyone is going to like it!
Also check out Meera in action with the Mumzy and Aggro on our Youtube page BollySpice Magazine!
With contributions, video and photos by Anjum Shabbir