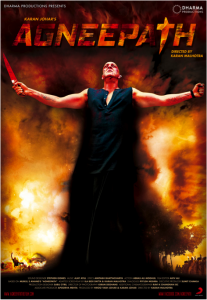 Agneepath… Agneepath… Agneepath!! That is what the world is talking about. From record breaking theatrical trailer views on the official Dharma productions You Tube channel to the record breaking views for Chikni Chameli music video, Agneepath has been breaking records all over the place. Directed by Karan Malhotra and starring Hrithik Roshan, Sanjay Dutt, Rishi Kapoor and Priyanka Chopra, the film which released just yesterday has hit another record and then surpassed it by an impressive amount.
As we told you yesterday the early numbers from the box-office were looking to be around 21 crore and could go higher and you know what… it did! The mega starrer has exploded over the box office with a whopping 25 Crores opening day collection. This number has broken records of all movies in terms of opening day revenue. With a Republic Day release and a heavy weight star cast, this movie has surpassed all expectations. Who knows how hight the film can reach and we will wait and watch to see what the finally tally for the film is but we expect it to be overwhelming!
About the response to the film Hrithik tweeted:
@ihrithik WOW!!!! THANK u THANK u THANK YOU!!!!!!!!! Agneepath 1st day – 25cr!!!! My damaged bodyparts suddenly feel ALIVE, I feel like I can FLY now!!!thank u people, I have the fuel now to make KRRISH EXpLODE!!!! And explode he WILL!!!
He also said, "I feel blessed. I think this is what we live for. I am on centrestage but it's a victory for the entire team so I am representing all people – the light boys, the staff, the writers, music directors, the director, everybody is a part of this joy."