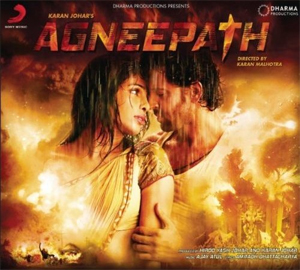 Since the day Dharma Productions' unveiled the first look of their 2012 remake of yesteryear hit Agneepath, one thing was for sure – that the film will be devoid of Dharma Productions' trademark extravagant song sequences. That is, stars lavishly dressed in Manish Malhotras dancing to Farah Khan's directions with 1,000,000 extras in the background to a familiar tune claiming to be new.
Accordingly, audiences and critics alike had no hopes or expectations of a typical Dharma Productions soundtrack from Agneepath, a presumption that was affirmed when Ajay and Atul Gogvale of Singham fame were announced as the music directors of the film rather than the likes of Shankar-Eshaan-Loy and Vishal-Shekar. On the outset Agneepath's soundtrack is made up of 6 tracks, no remixes, and features the vocal talents of Sunidhi Chauhan , Shreya Ghosal, Roop Kumar Rathod (Tujh Mein Rab Dikta Hai – Rab Ne Bana De Jodi), Sonu Nigam , Sukwinder Singh, Anand Raj Anand (Ishq Samundar – Kaante) and Udit Narayan.
Chikni Chameli gets the ball rolling and smashes all pre-conceived notions about Agneepath being an out-and-out situational soundtrack with little to no mass appeal. While Chikni Chameli's mass appeal is no doubt signed and sealed, arguably it is still open for a little critical analysis. Firstly, props to Ajay-Atul for this energetic item number that is rich with Marathi musical arrangements and does not have a single dull moment. That being said, their choice to have Shreya Ghosal sing the number is not entirely agreeable. The track would have been far more impressive if the reigning queens of item numbers, Sunidhi Chauhan (Chandigarh Ki Star – Bhuddah Hoga Tera Baap and Shake It Saiyan – Rascals), Ritu Pathak (Razia – Thank You and Jalebi Bai – Double Dhamaal) or Mamta Sharma (Munni Badnaam – Dabangg) had sung the number. Shreya's rendition sounds tentative and calculated and why not, given her foray into the world of item numbers after singing softer romantic numbers for quite some time. In any event, she is definitely effective judging by the way the song's making waves amongst the aam janta. Finally, even though the owners of the eyes glued to Katrina Kaif's cleavage and navel might beg to differ, Amitabh Bhattacharya's touch-in-cheek lyrics is also a big portion of Chikni Chameli's appeal.
It is not as catchy as 'Le Zandu Bam huyi…' but he sure does get the Marathi nuances right in line with 70s hits like Mungda (Inkaar). After the myriad of energy and volume, Ajay-Atul take a minimalist approach with O Saiyaan. Roop Kumar Rathod brings Bhattacharya romantic poetry to life in a glorious fashion while Ajay-Atul's choice to feature minimal music beautifully showcases the extents of Rathod's vocal talents. Those dancing to Chikni Chameli may not appreciate this number but those with an ear for fine music will definitely enjoy O Saiyaan.
Next is Gun Gun Guna, an uplifting number with joyous musical arrangements with Marathi music at its helm. Bhattacharya's lyrics are sweet and hopeful and on a mission to cheer-up the sombre and are more of less effective. It is a celebratory number and who better to celebrate with than Sunidhi Chuahan whose vocals could not have painted a clearer and brighter picture of Bhattacharya's lyrics. Sunidhi is briefly accompanied by Udit Narayan who is a delight to listen to what with his appearance getting rarer year after year. Further, Gun Gun Guna just might give Dharma Productions the narrow chance to picturise a number ala Bole Chudiyan from Kabhi Khushi Kabhie Gham.
Shah Ka Rutba is a clearly a situational track but unlike the rest of its brethren, it is also highly entertaining and a pleasure to listen to devoid of its motion picture counterpart. Undoubtedly the track's crowing glory is its music that encompasses a sense of foreboding that is rather indescribable. Ajay-Atul's energetic yet aesthetic qawali musical arrangements takes one back to the days of Tu Na Ja Mere Baadshah (Khuda Gawah) and Yaar Hai Iman Mera (Zanjeer), a welcome nostalgic peak into the era if not anything else. Bhattacharya's articulate frenzy of Urdu lyrics are well rendered by Sukwinder Singh, Anand Raj Anand and Krisha Beura who vocalize the philosophical-come-prophetic lyrics effectively. Shah Ka Rutba is definitely the sleeper hit of Agneepath.
Abhi Mujh Mein Kahin is in the same line as O Saiyaan, that is, it is vocally potent with minimal music, is sung to perfection by Sonu Nigam. Nigam who was once synonymous with 90 percent of Bollywood's soundtracks rarely graces us with his presence nowadays. If by chance he does, then the songs are either mediocre (Allah Maaf Kare – Desi Boyz), plain stupid (Tees Maar Khan – Title Track and My Heart is Beating – Thank You) or an unattainable odd-come-embarrasing mash-up/remix/cover of an English number with little to no appeal for Indian audiences. Therefore, listening to him in full form, rendering a magnificently composed number such as this is like wining the musical lottery for his fans and music enthusiasts alike.
The soundtrack comes to an auspicious close with Deva Shree Ganesha, a power packed track glorifying Lord Ganesha sung by Ajay Gogvale. Don't expect a quiet meditating aarti or bhajan from this number as it's anything but. It commences on a loud note with loud vocals and loud dhols and ends on an even louder note. In short, it embodies the very essence of loud. While some may enjoy it other may decide to spare their ear drums. While the boisterous nature of the track may have been necessary for its celluloid counterpart, the sacrifice of the illegibility of lyrics to this end, especially the mantras at the end of the song, was lamentable.
In summary, Agneepath is a bit of a surprise. It was destined to be a situational soundtrack with limited widespread appeal and while it is a situation soundtrack in all respects Chikni Chameli has ensured that the masses wrapped around her slim navel. In doing so it has given Agneepath the chance to foray into a larger demographic and giving the other not-so-mass-appealing number more than a snow flake's chance in hell. Thus, if one is to look past Chikni Chameli (granted, a hard thing to do) they will see that Agneepath's O Saiyaan, Abhi Mujh Mein Kahin and Shah Ka Rutba are real class acts. Gun Gun Guna is also a close runner up in any case with Shree Deva Ganesha only appealing those who seek it. In any event Ajay-Atul have created an impressive albums that has compelled music enthusiasts, if not the general public, to eagerly look forward to their next soundtrack. So by all means let Chikni Chameli entice you to the music stands (digital or otherwise) but in doing so also give the rest of the soundtrack a fair go.