Seems that a remake of a classic once again can take the box office by storm. Agneepath, which is a new telling of the classic Amitabh Bachchan starrer is well on its way to be an iconic film itself and it has only been in the theater for one day. The Karan Malhotra directed Agneepath, starring Hrithik Roshan, Sanjay Dutt, Rishi Kapoor and Priyanka Chopra had absoultely incredible opening day numbers. The film has already raked in approximately over 20 crore! If at the end of the day that number indeed ends up to be true or, as it is looking to be, even higher it will be the biggest opening day ever.
Audiences are so loving this film in India that at every showing we hear there are whistles, claps and screams and more! At a theater fans actually were putting garlands on the posters and hoardings.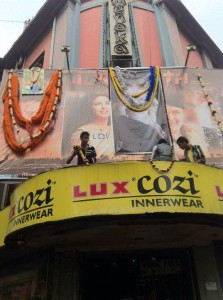 Critically it is getting very good reviews with each star Hrithik, Priyanka, Sanjay and Rishi getting praise as well as huge amounts of applause for director Karan Malhotra and his new vision. Of course the tweets have been a flying (sorry pun a bit intended) and here are some of the ones praising the film from critics, stars and fans!
@roshanabbas
The true hero of #agneepath is @karanmalhotra21 ! Such direction makes u stay glued to the seat for 3 hrs! Got to see it at Chandan again! Sanjay Dutt takes off where he left of in the end of Vaastav, the bald pate adds menace! A formidable mountain of a villain.But to see rishi kapoor sink his teeth into the pathan villains role was a special treat! U sir are amazing #agneepath @priyankachopra sparkles! This lady is spunky, sexy and savvy! Unafraid and uninhibited #agneepath U need roles like Agneepath to see what @iHrithik is capable of! He is brilliant! @karanmalhotra21 what a reimagining! What scenes, what direction!!Hrithik is brilliant but slumming it out.. Aaiii shapath! Still as a man I can say…he makes me proud to be his species.. Ha ha
@sweeetstarr1
Just saw Agneepath in Dubai ! Hands Clapping Mouths Whistling Foot Tapping !Such a BRILLIANT MOVIE ★★★★ ! Its a Masterpiece
@NavinBajaj
Karan Malhotra & @kjohar25, take a bow. #Agneepath hs good performances by all. @priyankachopra rocks as Kali. Rishi ji His portrayal of Rauf Lala in #Agneepath sets another milestone 4 his career. What a natural actor.. effortless! Wth #Agneepath both @iHrithik & @DuttSanjay hve surpassed their previous best performances in a long time. Sure 2 hit a chord wth the masses
@suryahasyadav
@duttsanjay Awesssssome movie…brilliant performances…remained stunned after watching Agneepath…more power to you and the team…
@nidhibains
@duttsanjay Your best work ever!! You were so much into the character that I hated you. AWESOME work entire team!!
@Gaali_Leo
Agneepath: Finally a movie that lives upto the hype. It will blow your mind away. Brilliant stuff.
@tanuj_garg
Just saw 'Agneepath'. Commercial entertainment at its absolute best. After sid malhotra, @Tarunmansukhani, ayaan mukerji& @punitdmalhotra, @kjohar25 gives the industry his 5th new director! @karanmalhotra21 Congratulations @kjohar25 , @iHrithik , @priyankachopra , chintu, karan malhotra & apoorva ! You just delivered a whopper ! #agneepath
@FarahKhanAli
An unbiased opinion. Agneepath moves you like u cannot even imagine. A total "MUST" watch. @iHrithik @kjohar25 @priyankachopra @duttsanjay Moved beyond words. Cannot even begin to describe the feeling u leave the movie with. Agneepath Agneepath Agneepath. @iHrithik @kjohar25 @iHrithik If there is an actor who isn't an actor on screen, it is only u & u. God bless u. I have no words to describe Agneepath. Congratulations @kjohar25 @iHrithik @duttsanjay @priyankachopra, rishi kapoor & karan malhotra. Kudos
@JyotiHR1
I m completly mesmerised aftr watchin #agneepath i hve no words @iHrithik Head down 2 him wid lots of ♥ n Respect
@ankit_j
Hrithik has took the cult classic to a whole new level ! this movie should break all records and sweep all awards !! #Agneepath
@actormadhavan
Agneepath was fantastic. Hrithik (@ihrithik) was extraordinary and a total Hindi Philuum. I loveeed it.
A'myth@Goddamittt
#Agneepath with Hrithik is a perfect lesson on how to pay proper tribute to a classic. Carries forwards the legacy in a brilliant way!
@AshDeshmukh2011
Loved Agneepath! A complete masala entertainer after long. Packed wid action, drama, ,latkas, jhatkas, emotions and mindblowing performances! Hrithik proves he's brilliance yet again. While Sanjay Dutt has refined the villain in Hindi cinema. It will take a while to beat this one! Hrithik, Priyanka, Sanjay Dutt n Rishi Kapoor take the story to another level with their outstanding performances.
@realPreityZinta
Saw AgniPath last night & WoW ! Revenge is SO In thanx 2 Hrithik, Sanju n Rishi K ! What a blast from the past with powerful performances !
@SRIVARSHINKOLAVENNU
@priyankachopra awww!! Kaali..luvd her…beautiful,different and mind-blowing !! PC is a diamond to the Indian cinema !!
@Shehinasalilm
@priyankachopra saw agneepath.you were v beatful.hrtk was awesome.cilmax amazing,like it 100 times.housefull in kerala.
@UppyB
Sanjay Dutt makes Voldemort look like an angel. #Agneepath
@NiyatiKhanna82
You know one of those films that give you a kick, a feeling of standing up & beating the heck out of baddies, no matter what! That's AP! Agneepath is a thrilling ride into 80s: emotions, masala blended with awesome cinematography, flawless screenplay! Bit of QT somewhere! 10 reasons to watch Agneepath: Hrithik, Hrithik, Hrithik, BABA, BABA, SANJU BABA, Priyanka, Karan Malhotra, Hrithik & BABA! *respect* xo
@Minissha_Lamba
A powerful cinematic experience in a cult classic revisited..Agneepath.. @iHrithik eyes speak a lifetime of emotion..
Well you get the idea! More to come we are sure in the coming days…
Both Sanjay and Hrithik took to twitter as well
Sanjay Dutt
I am over whelmed with the response and support of everyone. Thank you for loving me so much.
Hrithik
2 b granted d blessing of being a part of ur joy, ur lives ur emotions thru dis medium called cinema makes my life worth more than it is. D void dat vijay chauhan created in my heart is filling up with d joy u all r pouring into me right now… I THANK U my audience or rather- my friends my extended family 4 showing me my purpose n being my reasons. I am because WE ARE! THANK YOU!! Smiling…:):) now go spread that love!
Stay tuned we will have our review up soon!