In the past 2 weeks the audiences have been treated with trailers of some big budget movies that are going to release by end of 2011 or the start of 2012. All these movies look promising and are anticipating some big returns on the release of the film.
Agneepath trailer, which was launched on the 29th of August 2011, has broken all the possible records of viewership. It has crossed a million views on the YouTube channel in a span of a week. The current number of views has crossed a million and sixty thousand. The numbers are increasing like a taxi's meter and it won't be a shock if it crosses a few more million by the time the second trailer releases during Diwali.
With the kind of star cast and the movie theme, and now named as the most watched trailer, Agneepath might even be the most watched movie of 2012. The second trailer is coming to tease you… Very soon!! 🙂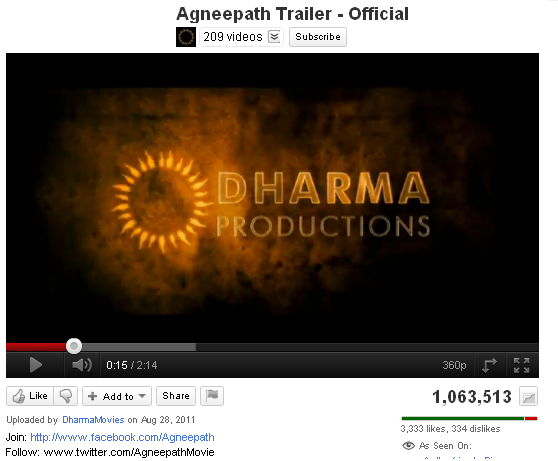 In case you by chance missed it!
httpvh://youtu.be/z0KPQstwMQw