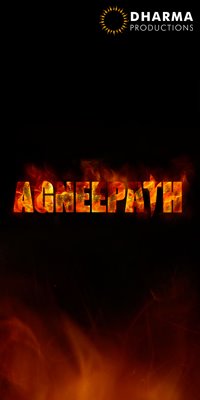 The wait is over! Dharma Production has finally released the much awaited movie trailer of Agneepath at a LIVE event held today. Fans watched the release in large numbers it exclusively on the official YouTube channel of Dharma Productions. A star-studded event, fans who gathered in huge numbers were able to catch a glimpse of their favorite stars – Hrithik Roshan, Sanjay Dutt, Priyanka Chopra, Rishi Kapoor and producer Karan Johar attended the trailer launch.
Just before the first promo was released Karan Johar had to put some questions to rest and he had this to say about the movie, "There is so much curiosity about Agneepath, that's why I have released this teaser so much in advance. I want to put the curiosity to rest and let people know that this Agneepath is not a remake. The look, feel and the treatment of the two films are completely different. The two films have a different world of their own. I would rather call my film 'a homage' to the classic directed by Mukul S Anand. The film was produced by my father and I think that it is one of the best films ever made. That is exactly why we chose to make another film, which might be called an apt tribute to the earlier film. The heart and soul remains the same — it's still a similar struggle between the protagonist and the antagonist. But it is a totally different film. I feel it has turned out to be a very good and engaging film. It's a film all of us at Dharma are emotional about. It may not have been a commercial success, but it is still one of Amit uncle's (Amitabh Bachchan) most popular films. When Karan (Malhotra) expressed a desire to make his version, all of us were more than happy. I know my father would have liked it this way."
Karan goes on to describing the promo, "In the teaser, you will see these four fantastic actors and superstars. You will also notice that this version of Agneepath has a different texture, a different tonality. It is a readapted and re-energised version that will take people by surprise. The original had an ethos that was closer to the time (the 90s). This one will obviously be contemporary. Karan has paid a tribute to my father and Mukul, and I'm happy to stand by his side."
The 1990 version had Mr. Amitabh Bachchan playing the role of Vijay Dinanath Chauhan which will now be played by Hrithik Roshan. Sanjay Dutt on the other hand will performing the role of Kancha. The character played by Rishi Kapoor was not in the original script (1990). Even the love story between Priyanka Chopra and Hrithik Roshan bears no resemblance to the Madhavi-Amitabh on-screen jodi.
Agneepath is set to release on January 13th, 2012.
Without must further ado here's the trailer and some stills from the movie! Enjoy!
httpvh://www.youtube.com/watch?v=z0KPQstwMQw