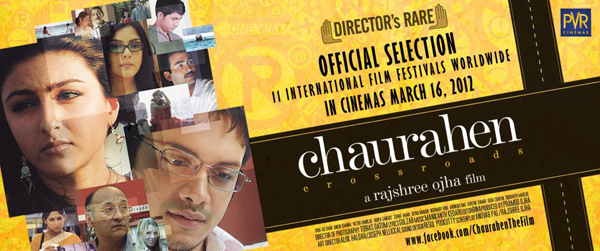 After directing a film that is as commercial and Bollywood as they get, Rajshree Ojha returns to the screen with her film Chaurahen, and this time commercial is anything but what the film looks like. Originally completed in 2007, Chaurahen went on to screen at 11 international film festivals before securing theatrical distribution in India by PVR Cinema and global online distribution by Mela.
Chaurahen (Crossroads), a film directed by Rajshree Ojha, who previously directed Aisha, in addition to two other popular specialty projects, boasts an impressive ensemble cast that includes Soha Ali Khan, Victor Banerjee, veteran Bollywood actress Zeenat Aman, and Kiera Chaplin, granddaughter of the silent film superstar Charlie Chaplin. The film is an adaptation of short stories by celebrated author Nirmal Verma. Ojha describes the three vignettes that comprise Chaurahen as "snippets of collected photographs, bringing together similar disconnected people trying to find their path."
If you're like me and are psyched at the thought of online distribution of films than your prayers are answered with Chaurahen which has secured an online distribution deal with Mela. The film will release globally on all Mela platforms – the Mela Bollywood movies channel on Roku, the Mela app on iPad and the Mela High Definition set top box on Friday, March 16. The film is being released the same day in theatres in India by its local distributer, Priya Village Roadshow (PVR).
To get your self all set up for March 16th, and all the exciting future releases Mela will be offering, log onto www.mela.com. Mela's First Day First Show is an initiative under which it will release new Bollywood movies in international markets simultaneous to their theatrical releases in India. Bollywood movie fans outside of India will now be able to enjoy new movies from the comfort of their living rooms no matter where they are located in the world.
No more waiting for DVDs or travelling for miles to catch a Bollywood film on its release day. Cool nah?!