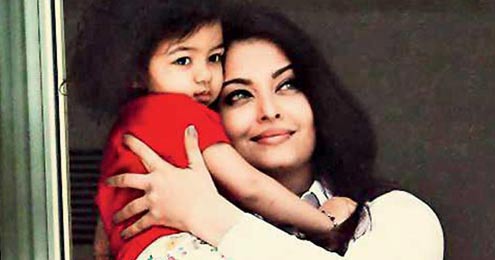 Recently Aishwarya Rai Bachchan along with her totally adorable daughter Aaradhya were seen at Mukhtershwar Temple for Saraswati Puja and we have the exclusive scoop!
The two celebrated Saraswati puja at home first with family. Amitabh Bachchan wrote on his blog, "This morning early on the 4th (Feb 4) was an auspicious day, Saraswati Puja, a day of learning and education and a prayer to Saraswati the goddess of learning…a small prayer with the staff, and then the most important ritual…the moment of giving Aaradhya a writing utensil and leave it to her to scribble.It is a moment of initiation of the child towards education and learning, after completing two years of age! Its tradition, it is culture, it is cute."
The two then came to the temple in Juhu for the puja. While there the actress was seen talking about her pride and joy and her writing to a family friend saying, "She has been writing for a while and even knows all the alphabets."
During the visit to the temple, Aaradhya was heard chanting 'Om Shanti Shanti Shanti Om' and if that was not sweet enough the two-year old toddler was also seen pouring water on the Shivling and saying 'Shivji bathy time'.
A source tells us it is very important to Aishwarya that Aaradhya be raised with Indian traditions and values. At the temple, Aishwarya was heard saying, "I believe in tradition and have always enjoyed it and would want Aaradhya to be connected to tradition and remain rooted in life."