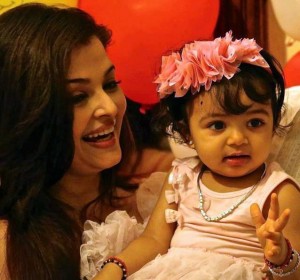 As we have reported earlier Aishwarya Rai Bachchan is a very hands on Mommy to her and hubby Abhishek Bachchan's cutie daughter Aaradhya! In fact, we have some new scoop on Aishwarya and Beti B.
A source close to the family told us that Aishwarya recently missed out the Screen Awards so she could stay with Aaradhya. "The whole Bachchan family first went to Suniel and Mana's new shop opening and then for Screen Awards.  Ash could not go for it as she was planning to because her nanny was on leave and came back late, so she could not make it."
In fact, the source added that Aishwarya plans all her days around her daughter. "She is with Aaradhya the whole day and plans her day around Aaradhya's sleep timings."
If any meetings come up, then Aishwarya makes sure they are scheduled during nap time and "then Aishwarya is back with her when she is ready to wake up," revealed the source.
We also hear that every day Mommy and daughter have exclusive playtime, two hours in fact!
Abhishek told TOI, "I'm growing to admire Aishwarya more and more each day. Aaradhya has her playtime reserved every evening and Ash makes sure she doesn't schedule any appointments around those two hours because she has dedicated to spend that time with Aaradhya." Adding that Aishwarya makes sure that this time with the one-year old happens every day without fail!
Papa Bachchan, of course, has his time too but with his shooting schedule he can't be there as much every evening. "I love playing with my daughter too. She is a little over a year old and I'm truly amazed with the way she runs around already."
And we all say awwwww!