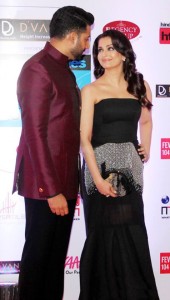 It was the wedding of the century when Aishwarya Rai married Abhishek Bachchan on April 20th, 2007. It has now been 8 years if you can believe it! To celebrate their eighth wedding anniversary Aishwarya Rai and Abhishek Bachchan, both who have been very hard at work on projects, will have a quiet romantic evening.
We hear Aishwarya, who is currently shooting for Sanjay Gupta's Jazbaa, has a night shoot tonight that will probably last until the morning. While Abhishek flies in tomorrow morning after a work visit to London.
A source from the set told us exclusively, "Aishwarya choose to shoot on the eve of her anniversary as Abhishek was also at work and returning on the morning of their anniversary. Basically it's work mode for them. They will probably have a quiet dinner with family and friends in the evening."
Sounds romantic to us! Happy Anniversary to gorgeous couple!
Check out the happy couple on their wedding day!