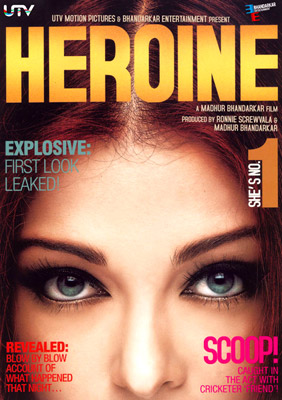 Ever since the announcement that Aishwarya Rai Bachchan was pregnant there have been rumors flying about the fate of her new film Heroine, directed by Madhur Bhandarkar. The film was announced at Cannes this year and just went to the floor last month, with several key scenes already in the can. So will it go forward? From what we have been told, Madhur no longer sees a pregnant Aishwarya as his Heroine.
A source told us, "Once the announcement was made by Mr. Bachchan that Aishwarya was pregnant, the next day the director Madhur met with her. Instead of it being this whole happy thing, he said, 'I can't shoot with you'. It was quite the shocker."
There have been many stories questioning why Aishwarya accepted the role if she knew she was pregnant. According to the source, she knew she could complete the film within the schedule. "Obviously she knew what she was doing. As per the schedule, she had given her dates until the 31st of July."
However, the source said it looked like the schedule was going to run long and that is what created a big part of the problem, "Basically they were not really ready. Even at Cannes, Aishwarya still did not have a bound script. They knew they would have not finished by July 31st. For example, she was supposed to shoot non-stop until the 31st but, that next day after the twitter announcement, there actually was a cancellation because they had not found a character artist.
"Also, there was to be a very big portion of the film shot at a location that was supposed to be Aishwarya's house. The deal fell through for the house they wanted to use, so they decided to make a set. They were not ready.
"Aishwarya is ready to finish the film as per commitment. She is not ill; she is only pregnant. Everyone works and goes along normally when they are pregnant. People shoot when they are pregnant. Penelope [Cruz] shot Pirates of the Caribbean, an action film, until her 7th month," the source added.
The source went on to say that Aishwarya being fired from the project because she is pregnant is a clear case of discrimination, she was ready to finish the project she signed. Adding, however that Aishwarya would not try to push in that way.
There are sure to be even more developments in the saga of Heroine so stay tuned for more.