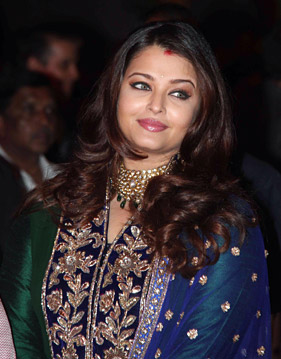 Recently in the news, there has been quite the outcry about Aishwarya Rai Bachchan's weight and how she needs to get back in shape after having her baby girl. From what I gather, she does not have to do anything until she is ready. Not only does Aishwarya still look gorgeous but the fact is, she is simply enjoying motherhood, taking care of her baby herself and I can think of nothing better!
From what I understand, she wants to lose the weight naturally and healthily. In fact, Aishwarya is still breast feeding and is making sure she gets the correct nutrition both for her and Beti B. She is still eating for two and we are assuming that she is having all the things that new mothers have, like goondh ke laddoo! Her only concern right now is the baby. When she is ready to get back to be in front of the camera, whenever that will be, we are sure she will look beautiful.
The woman has dedicated over 15 years to her career, I think it is about time that she be left alone and enjoy being a new mother. It is commendable that she is like a normal new mother in India, who is fully hands on with her baby. She could hire a nanny to take care of the 3-month old but she prefers to be a true stay at home mom and do the best for her little girl. I have immense respect for Ash. I think she should be praised for being real and for not being in a hurry to get back to her career.
This writer will be eagerly awaiting for her next role, and of course we are all holding out our breath for the name of the precious little one to be released. Until then, we wish Aishwarya, the Bachchan khandaan and the baby best of luck!