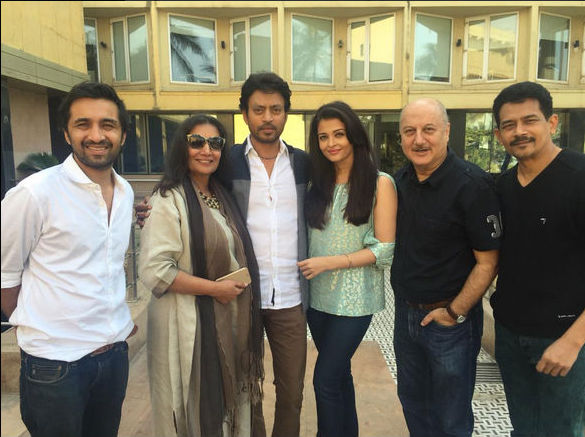 On everyone's Bollywood radar is Sanjay Gupta's Jazbaa starring Aishwarya Rai Bachchan. It is the film that will bring the actress back to the silver screen since we saw her in Guzaarish in 2010 and fans cannot wait.
The film began shooting on January 27th with Irrfan Khan and was off to a "glorious start" tweeted Gupta. Aishwarya will hit the floor on February 3rd and we hear it will involve some pretty intense scenes between Aishwarya and Irrfan.
About the story of Jazbaa, which is said to be a courtroom drama with Aishwarya playing a lawyer, Gupta has said, "All I can say is it is a thriller and a drama, about what ordinary people can do in extraordinary situations."
In a recent interview with TOI Aishwarya revealed why she agreed to do this film. "It was an immediate yes because the subject has that kind of immense voice which I was very happy to spread and be a part of this team."
On his part, director Gupta said it was Aishwarya's strength as an actress that made him want her for the role, "The lead protagonist in my film is a woman, and therefore it was imperative that I cast someone with the right histrionic capabilities as well as strong shoulders to carry the film."
The actress had nothing but praise for the director saying, "Gupta is a wonderful visionary for this subject on celluloid. And I think the combination is great. I have always enjoyed his work. The subject of this genre and the director…when these two come together, it has an exciting newness to it."
Adding, "I am very excited and am looking forward to Jazbaa."
Aishwarya's Husband Abhishek Bachchan, who was instrumental in getting Aishwarya on board said, "I'm very excited to see Aishwarya in Jazbaa. It should be a lot of fun. It's a great script. I love Sanjay Gupta as a director and I think they'll make a fantastic team… it's always wonderful to see her on screen."
The cast also includes Shabana Azmi, Anupam Kher, Atul Kulkarni, and Chandan Roy Sanyal who plays the villain of the piece.
About Chandan Roy Sanyal's role, Gupta says, "Chandan plays the main antagonist. His character is dark, psychotic and edgy. All his scenes are with Aishwarya and they will be mostly confrontational."
Another key player, Anupam Kher, says he thinks the film will be fantastic, "I'm looking forward to work in Jazbaa and with Sanjay Gupta after 18 years and of course with Aishwarya. With Irrfan, I'll be working strangely for the first time. I'm looking forward to this film as it has an amazing script."
Though rumors abound that Irrfan and Aishwarya will have a love story this actually is false. Gupta clarified, "Irrfan will play a pivotal role in the film along with Aishwarya, but the role is not opposite her. There is no romantic track in the film. The film primarily revolves around the protagonist and her fight against the system."
Stay tuned we will be bringing you all the Jazbaa scoop!