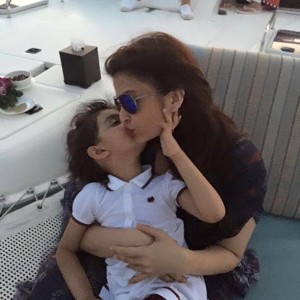 Aishwarya Rai Bachchan has always been a hands-on mother in spite of all the professional commitments she had and continues to have. The actress never compromised on her daughter's needs and that shows the kind of emotional bond she has with Baby B. The actress was asked about Aaradhya at the recent L'Oreal Women Of Worth Awards and she teared up talking about the special relationship with her daughter.
She also spoke about Aaradhya's first day of big school saying she could not believe that time had gone by so soon. "She gives me a reason to be grateful everyday. . She is the embodiment of love. Mommy is extremely emotional today as it was Aaradhya's first day of attending big school. It's a very special day for me and it was at a great platform like the Woman of Worth to share it with all of you. She is my world and I can go on and on," expressed the beautiful actress.
The actress, stunning in a white Tarun Tahiliani sari and jewellery by Satyan Fine Jewels, also revealed that the youngest Bachchan already has a rather extensive vocabulary. "We always tell each other that we love infinitely, eternally and unconditionally and am amazed that she also has started using such big words," added Aishwarya.
Well, with all that love between them, who wouldn't love this Mother-Daughter duo! We wish Aaradhya all the best for a whole new journey and wish her all the luck and love!