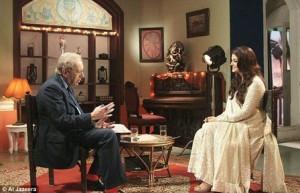 Bollywood icon Aishwarya Rai has spoken for the very first time about kissing actor Hrithik Roshan in 2006 for the Yash Raj Films production Dhoom 2. The scene caused a storm of controversy at the time.
Rai told Sir David Frost, in an interview to be broadcast on Al Jazeera English this weekend, that "it's very rare that actors look comfortable in our cinema on-screen kissing". She speaks philosophically about the role of song in Bollywood cinema as a replacement for intimate scenes.
Rai told Frost: "You're going to get me to talk about something that I haven't, in any of my interviews. When I did the movie Dhoom, I was very aware that okay here I was going to be part of a film that's just popcorn entertainment. I mean every frame you're aware of your stance in front of the camera. It's all very visual, and there is a bit of acting going along the way!
"It was around the same time that the interest in the western world from Hollywood, or European cinema, English cinema, from the industry there was a lot interest in me and the possibility of me working overseas, and I had already declined a couple of scripts purely on the basis of not being comfortable with the very physical scenes and the kissing because I'd never done that on-screen and I just wasn't very comfortable with the idea. And I was quite sure even my audience was not very comfortable with me doing it on-screen. I was actually quite convinced about it but I still said okay, if I have to go down this path let me first do it in our cinema, in an Indian piece of cinema, and let me see if all my doubts are true, and they were.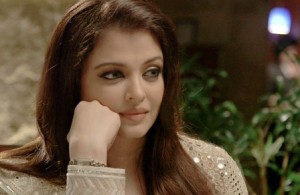 "I did it once prominently in the movie Dhoom 2 and it was so topical, and you'll be surprised, I mean I actually got a couple of notices, legal notices, from some people in the country turning around and saying "You are iconic, you're an example to our girls you have led your life in such an exemplary manner, they're not comfortable with you doing this on-screen so why did you?". And I was like wow, I'm just an actor, doing my job, and here I am being asked to offer an explanation for a couple of seconds in a two, three-hour piece of cinema.
"A lot of actors have kissed before that movie , they continue to kiss on-screen till this very minute, but public display is not that common in Indian culture. Even our actors, it's very rare that actors look comfortable in our cinema on-screen kissing. It almost looks like it's a planned moment, just to make much ado about a moment or to excite the audience. It's made into this separate entity from a scene, it's not very comfortable in our screenplay. Our songs are. What the kiss is in the western movies is what our songs do, and that's where our audience experiences all the emotions that the western audience does when their actors kiss. So that's a very comfortable space for us but I don't think the kiss visually has been. It's getting there, I mean now it's become very, very common so I think, I think, I still think our audience is getting comfortable with it, but I don't think universally."
The Frost Interview can be seen on Al Jazeera English each week at the following times GMT: Friday 20:00, Saturday 12:00, Sunday 01:00, Monday 06:00 (Freeview channel 83, Sky Guide 514, and Freesat 203).