Since she first stepped on screen in Mani Ratnam's Iruvar, Aishwarya Rai Bachchan has created some incredible roles both in the South and Hindi film industries. That first film showed that Aishwarya is an actress that likes a challenge, because she played dual role in the critical and box office success. Since her debut, with each new film, the actress has always chosen her roles very carefully and showed tremendous versatility in the characters she portrayed on film. Think of her incredible performance in Hum Dil De Chuke Sanam, or in the brilliant Taal, as well as Jeans, Raincoat, Chokher Bali, not to mention her total transformation into the characters in Devdas, Jodhaa Akbar and Guzaarish and that is just to name a few.
The actress took a family sabbatical from acting and fans eagerly awaited her return. The question on everyone's mind was when she was ready to hit her mark again in front of the camera what type of film and what role would we see her in? Aishwarya took her time, carefully deciding what roles she wanted to do and how she wanted to take her acting to the next and new level. As she did before her break, she proved her versatility and her desire to play something different and challenging with the first three films she signed.
Her first film back was a bold choice for the actress that surprised many fans. In Jazbaa, Aishwarya took on the role of a lawyer in a thriller with an independent film feel instead of a big budget 'look I am back' film. Though not a commercial success, her performance was praised and fans were ecstatic to see her back on screen again.
Continuing this trend, her next film is once again something that is unexpected. Instead of a 20-minute role in a male dominated film, Aishwarya has chosen to take on something very challenging and no role proves her versatility more than her next film, Sarbjit. Directed by Omung Kumar, the film is a biography of Sarabjit Singh (played by Randeep Hooda), an Indian prisoner in Pakistan for 23 years before being killed by inmates. The film is told through the eyes of Aishwarya's character, Sarbjit Singh's sister Dalbir Kaur, who fought for over 20 years to get his release from prison. The film has Aishwarya's character age from a young woman to a 60-year-old-woman and the transformation, from what we have seen so far, is incredible.
Check out this poster of Sarbjit to see Aishwarya as a 60-year-old woman. Just her eyes in the shot shows a world of pain and a story to be told.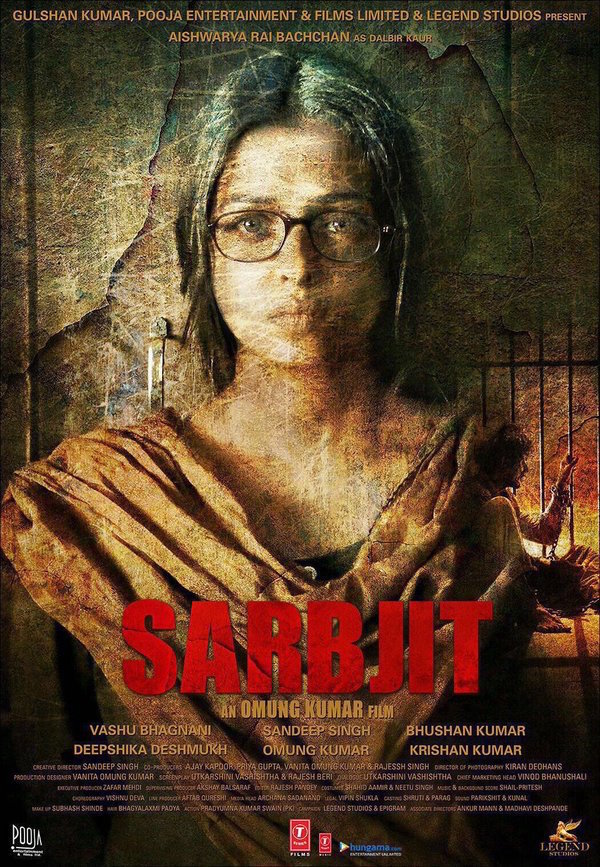 Just from this first poster, fans, the industry and critics have been praising the actress and cannot wait for the film to come to full fruition and for it to hit the cinema on May 19th.
Also on Aishwarya's slate is Karan Johar's Ae Dil Hai Mushkil, which also stars Ranbir Kapoor and Anushka Sharma. The actress has said that this film too is something 'refreshingly different' and we can't wait to see the romance play out on the big screen on October 28th.
We look forward to getting lost in her stories in her next two films and then to see where she will take us next!